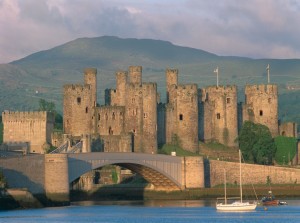 Although Wales spans just 8,000 square miles, it once possessed four hundred castles – that is one castle for every 20 square miles – earning it the title 'Castle Capital of the World'.
One hundred of these medieval castles are still standing today. They vary from those that have been fully or partially restored to those that can be explored as ruins.
A walk through history
Wales, with its castles, is the perfection destination for those who wish to immerse themselves in the past, and experience the settings of power struggles, and royal intrigue during The Middle Ages and the English Civil War.
Raglan Castle: Begun in the 1430s, which was rather late for castle building in the Middle Ages, Raglan Castle was built for show rather than battle in mind. Still it held off parliamentarian forces for thirteen weeks in one of the last sieges of the Civil War. The castle was eventually taken and destroyed by parliament although enough remains to still be imposing.
Dinefwr Park and Castle: Dating back to the 12th century Dinefwr Castle possesses a majestic hilltop location above the Tywi valley. The site of the castle and park is forever associated with the Princes of Deheubarth, the kingdom in south-west Wales. In this stunning location, you can stroll among the deer as you explore the castle's ruins.
Laugharne Castle: Built in the 13th century by the de Brian family, probably atop an earlier Norman ringwork castle, the ruins of Laughrane Castle look out over the Taf Estuary. The castle once provided inspiration to the Welsh poet Dylan Thomas, who spent time in the castle's summerhouse while working on poems and short stories.
Caernarfon Castle: A mighty fortress of polygonal towers, King Edward I created Caernarfon Castle, one of the most impressive Welsh castles, on the original site of a Norman motte and bailey castle, and before that a Roman fort. The birth of Edward I's son in 1284 in the castle marked the instigation of the first English Prince of Wales, and a means by which Edward I displayed his royal supremacy in Wales. In 1969 the current Prince of Wales, HRH Prince Charles's investiture took place at Caernarfon Castle.
Caerphilly Castle: The largest castle in Wales, this stone behemoth is surrounded by a series of moats and watery islands. Today, it offers panoramic views of the lush Welsh landscape.
Conwy Castle: Set against the mountains of Snowdonia, Conwy Castle looks like it came straight out of a fairy tale. Built for Edward I, by Master James of St George, the castle is amongst the finest surviving medieval fortifications in Britain. 
Powis Castle and Garden: Powis Castle is set high on a rock overlooking its celebrated gardens laid out in French and Italian styles and overhung with clipped yews, and sheltering rare plants. There is also a deer park before you enter the castle's opulent galleries and encounter the richly – designed staircases inside.
Cilgerran Castle: This Norman castle offers a great view of the River Teifi, which also provided it with a natural defence.
Chirk Castle: Both the interior and exterior of Chirk Castle are still in good condition since it is the last castle of its kind still lived in today. The castle is situated on the Welsh / English border as a final and stark statement of English supremacy by King Edward I. An exploration of its opulent interior provides an insight into how the gentry lived in days gone by.
Romantic getaways
Why not immerse yourself in the age of chivalry and stay in some of Wales' most romantic castles?
Castell Coch: Located a few miles outside of Cardiff, Castell Coch (Red Castle) is a nineteenth century Gothic Revival castle surrounded by lush countryside. Its beautiful interiors provides the quintessential romantic setting. The perfect castle within which to profess true love!
Ruthin Castle: One of seven castles in Denbighshire, Ruthin Castle is a 700-year-old structure that has been converted into a hotel. A beautiful retreat, nestled in stunning countryside, Ruthin Castle is the dream setting for the perfect wedding.
Brecon Castle:  Originally built in 1038 Brecon Castle is now a hotel, possibly the oldest hotel in Wales. Overlooking both the River Honddu, and the River Usk, its picturesque setting makes it the perfect romantic destination for all couples.
Contact us to know more about Welsh castles. Depending on your interests, we can customize a guided tour through Wales for you, one that takes you through scenic Welsh castles that are rich in history. You will be chauffeured in a luxury vehicle, so you can enjoy your trip in style.

Call 800.832.1848 or 212.757.5797 to talk to one of our destination experts or browse our itineraries here and start planning your trip today.