West Coast of Ireland
| Derry, Donegal Castle, Westport, Connemara, Galway, Clare, Limerick, Kerry, Cork, Kilkenny |
14 Days & 13 Nights
The Wild Atlantic Way, 14 Day Tour

Self Drive Tour or Luxury Chauffeured Tour
Encounter the wild western edge of Ireland.

Let the west coast of Ireland bewitch you with its rugged natural landscape, its wild seascapes, rich heritage and welcoming people.
"A lot of beautiful memories. Thank You for all of your planning and attention to detail,"

– Kathy Ross
---
Highlights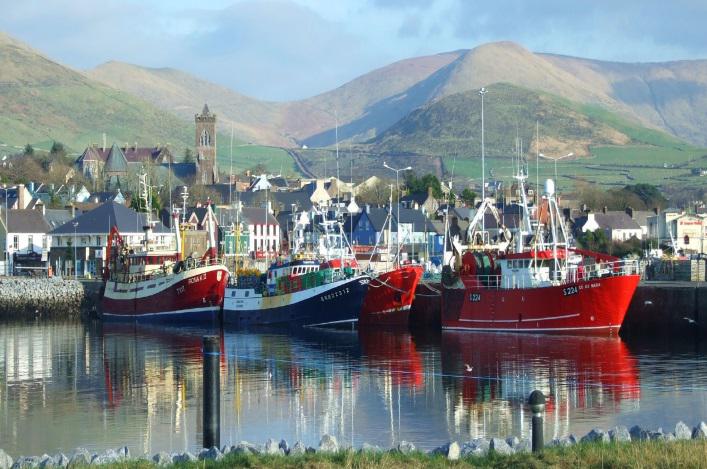 The Wild Atlantic Way stretches for over 1,500 miles along Ireland's western seaboard. From Donegal in the north to Cork in the south, through the stunning landscapes of Connemara, The Burren, Galway Bay and Kerry, it is the longest defined coastal route in the world. The Wild Atlantic Way can be experienced not just by car, but also by cycling, walking or sea - kayaking. Along the route there are 159 discovery points, and 15 signature experience discovery points, that reveal the rich culture and unique landscape of the wild west coast of Ireland.

To customize this itinerary, talk to one of our destination experts on 800.832.1848 or 212.757.5797.
Tour the city of Derry.
See Sliabh League & Donegal Castle
Explore Westport & Keem Strand in County Mayo.
Visit Killary Harbour
Explore the landscape of Connemara, a Gaeltacht (Irish speaking) region
Visit Galway City
Tour the stunning Cliffs of Moher and the lunar-like Burren
Visit Foynes in County Limerick
Tour the Ring of Kerry
Explore County Cork & visit Kinsale
Discover the medieval city of Kilkenny
Explore the city of Dublin
Optional 1 night Dublin City Trip extension:
Tour Dublin City.
Drive to Dublin Airport & depart Ireland.
If you like this Itinerary you may also be interested in our 7 Day and 10 Day itineraries.
Included in This Tour
Private Car transfer to your hotel on arrival.
13-nights deluxe hotel accommodations with full breakfast daily.
Self-Drive rental vehicle OR upgrade to a Professional Driver Guide.
Touring Map of Ireland & List of recommended pubs, restaurants and places of interest.
Deluxe portfolio of travel Documents & Personalized Itinerary.
24/7 Concierge service in Ireland while travelling.
Discount admissions booklet for area attractions.
Not Included: Airfare, tips, travel insurance, and items of a personal nature.
Flight Information
Arrive: Dublin (DUB)
Depart: Shannon (SNN)
Airfare is Additional
Take the hassle out of booking flights. Ask about our best available Economy Fares as well as our Preferred Business and First Class Offers. Our air department experts can help with competitive rates. Just let us know your preferred dates and U.S. Departure City. We will do the rest.
Meals
---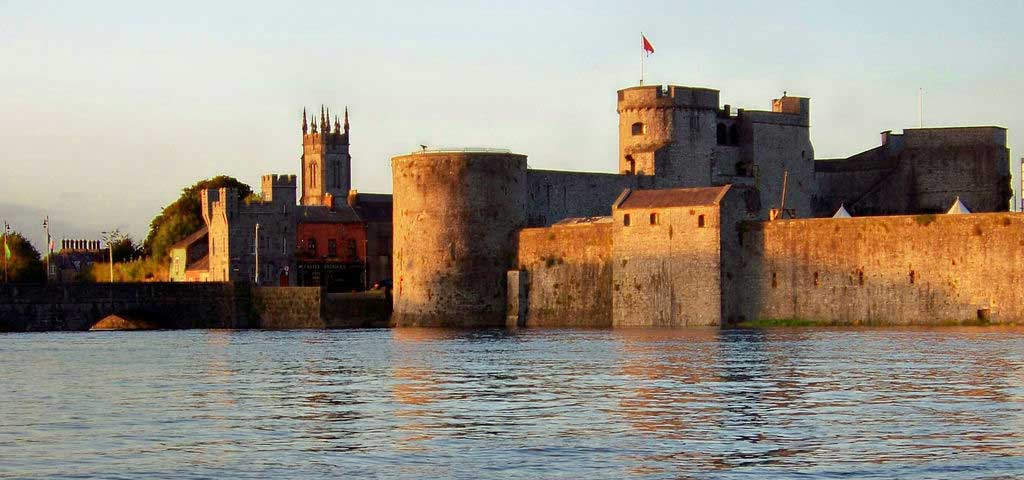 Day 1 & 2: Arrive in Ireland. 2 nights stay in Derry. Tour Derry.
Begin your Wild Atlantic Way experience by exploring the historic walled city of Derry. Take a guided walking tour, immersing you in tales from the past, while revealing the rich culture of Derry. Venture along the coast and visit The Wild Atlantic Way discovery point of Malin Head; the most northerly point in Ireland. Enjoy stunning panoramic views and magnificent beaches. Visit the next discovery point, Fanad head. Stay 2 nights at the Beech Hill Country House.
Day 3: See Sliabh League & Donegal Castle. Stay 1 night in Donegal
Continuing your journey along the coast you will reach the quaint village of Dunfanaghy. A short walk or drive to the top of Horn Head, which overlooks the village and bay, offers stunning views. From here you will begin to drive south towards the next signature discovery point of Sliabh League; which are amongst the highest sea cliffs in Europe. Visit the remains of Donegal Castle which was once the stronghold of the O'Donnell's. Stay 1 night at the Sandhouse Hotel hugging the beachfront at one Donegal's most famous beaches at Rossnowlagh, and offering panoramic views of the bay.
Day 4: Drive to Westport, stay 2 nights
Today, drive south to Westport. On the way venture through County Sligo, Yeat's Country, and visit Markree Castle, one of Ireland's most authentic castles. Arrive in Westport, and check into the Knockranny House Hotel for a 2 night stay. The bustling town of Westport offers unique opportunities to climb the iconic Croagh Patrick Mountain or kayak on the sea. Westport is alive with traditional Irish music, and there is also a stunning array of restaurants to choose from. Feast on fresh oysters and Guinness.
Day 5: Explore Westport and Keem Strand
Explore the Great Western Greenway, Ireland's first off-road walking and cycling trail, which is 26 miles long and runs from Westport to Achill Island. From here, you can visit your next Wild Atlantic Way Signature experience at Keem Strand. Wander through this deserted village, one of the last places in Europe to be used as a 'booley', a place where people grazed their cattle on the mountainside in the summer. This evening, enjoy a stroll through Westport and soak up the welcoming culture and genuine Irish hospitality surrounding you.
Day 6: Visit Killary Harbour. Drive to Connemara, Stay 1 night
Today drive onwards to the ethereal Connemara region of the West. This moorland landscape has been described as one of the most scenic regions in Ireland. Your next Signature Discovery point is Killary Harbour. This inlet is famous as the start of the Killary Fjord, a glacial fjord that offers some of Ireland's most awe-inspiring and dramatic scenery. As you continue your journey, stop in Clifden for lunch. This lively harbor town is dominated by the Twelve Bens Mountain range, with many shops, pubs and restaurants. Stay 1 night in Abbeyglen Castle.
Day 7: See Galway City. Tour the Burren. Stay Co. Clare 2 nights
Drive to County Clare today. On the way make a stop in the vibrant City of Galway, renowned for its rich heritage, great traditional music, and fabulous eateries. Galway is a dynamic and vibrant city. From Galway visit the Burren, a lunar-like limestone landscape with ancient druidic altars and the most magnificent flora and fauna. Make sure you see the Birds of Prey Center, and visit the Ailwee Caves with its underground waterfalls. The quaint nearby town of Lisdoonvarna is famous for its traditional match making festival, held once a year. Stay 2 nights at Sheedy's Country House Hotel.
Day 8: Explore the Cliffs of Moher
Explore the next discovery point on the Wild Atlantic Way, the world famous Cliffs of Moher. The Cliffs tower 700 feet above the Atlantic Ocean. They are a stunning sight to behold. While there, check out the Cliffs Exhibition at the Cliffs of Moher Visitor Experience Interpretive Center. A huge domed cave contains images, exhibits, displays and experiences that will delight young and old alike. There are also many walking trails along the cliffs, providing the perfect vantage point, and a unique experience you'll never forget.
Day 9: See Foynes, Limerick. On to Co. Kerry, stay 2 nights
Depart County Clare, and drive south to County Kerry. Take a short ferry ride, with your car, over the Shannon Estuary. There are 160 bottle-nose dolphins living in the mouth of the Shannon River so keep your eyes open for spectacular close-up views! Once you have reached dry land, take a short trip to the Limerick town of Foynes, home of the flying boats and Irish coffee. You must sample an Irish coffee here! Continue on to Kerry, known as the 'Kingdom'. Stay 2 nights in the Carrig House.
Day 10. Ring of Kerry.
Tour the famous Ring of Kerry. For centuries artists and writers have been inspired by this beautiful landscape where the contrasting mountain, lake, and coastal scenery is at its most spectacular. Visit the fishing town of Dingle, offering fantastic Irish music, stunning views, and award winning seafood restaurants.
Day 11: County Cork, stay 2 nights
This morning, visit the discovery point of Skellig Michael, an UNESCO World Heritage Site. 1300 years ago Christian monks built a home on the top of a jagged ocean rock, 8 miles off the coast of Kerry. Skellig Michael is one of the wonders of the world. It can only be reach by a small boat, but it is truly worth the pilgrimage. Drive to County Cork and see the next discovery point, Mizen Head. From here, you can walk across the arched suspension bridge connecting the mainland to a rocky crag that juts out into the crashing sea. Stay 2 nights in the Seaview House Hotel.
Day 12: Visit Old Head, and Kinsale
Travel along the coast today and visit Kinsale. You will discover a town regarded as the gourmet capital of Ireland. It is foodie heaven! Bustling Kinsale was once a Viking trading post that played a key role in Irish history. Your final signature discovery point on the Wild Atlantic Way Tour, is the Old Head of Kinsale, close to the site of a World War I tragedy. In 1915, a German U-boat sunk the transatlantic liner, The Luisitania just off the Old Head of Kinsale. 1200 passengers and crew lost their lives, leading to the United States entering World War I. Another option to see the Old Head is to take a boat trip or to explore the caves beneath by way of sea kayak.
Day 13: Tour Kilkenny. Stay 1 night Dublin
Drive to Dublin today. On the way tour the medieval city of Kilkenny. Visit Kilkenny Castle, and the infamous Kilkenny Design Centre. Have lunch before continuing your drive to Dublin where you will stay for 1 night at Buswells Hotel in the heart of the city. Enjoy a delicious dinner and a pint of Guinness at Davy Byrne's Gastro Pub off Grafton Street in Dublin City.
Day 14: Drive to Dublin Airport and depart Ireland
Enjoy a hearty Irish breakfast this morning, and then drive to the Airport, return your rental car, and prepare for your return flight home.
Recommended Extension
Day 14: Tour Dublin City
Dublin is a dynamic capital city, with a proud colourful past and a thriving present. Explore Trinity College and the Book of Kells, an exquisite illuminated manuscript dating to around 800. Check out the Dublin Writers Museum, Guinness Storehouse, trendy Grafton Street, and the youthful scene at Temple Bar. Visit Dublin Castle, O'Connell Street, and enjoy a horse and carriage ride around St. Stephen's Green, a serene Georgian Square. Dublin city never sleeps. In the evening, enjoy traditional live music in one of the many welcoming pubs. We recommend The Brazen Head Pub, Dublin's oldest Pub. Perhaps take in a night of theatre, at Dublin's famous Gate Theater.
Day 15
Drive to Dublin Airport and depart Ireland.

To customize this itinerary, talk to one of our destination experts on 800.832.1848 or 212.757.5797.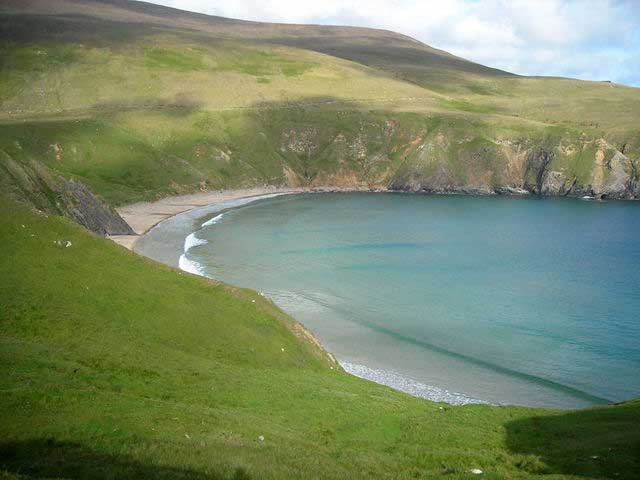 ---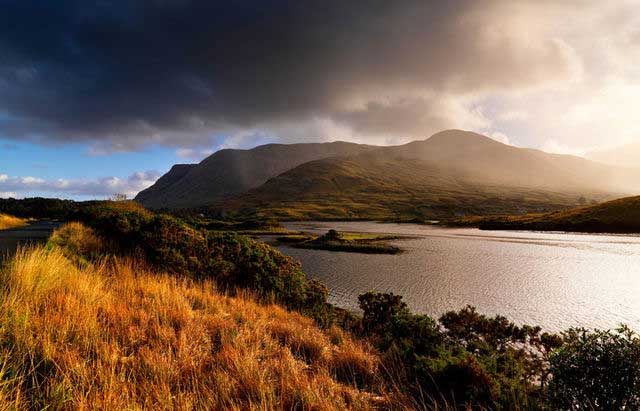 ---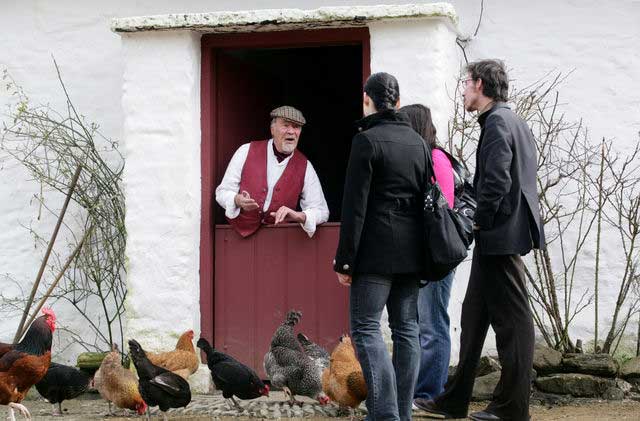 ---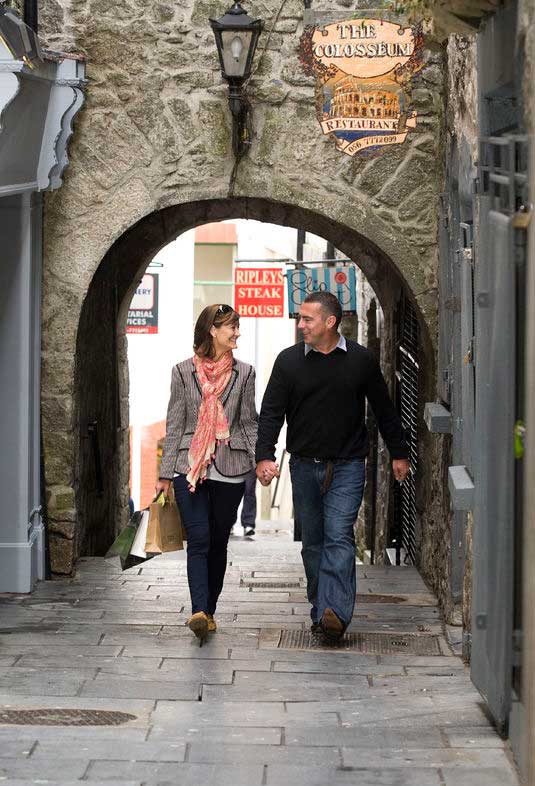 ---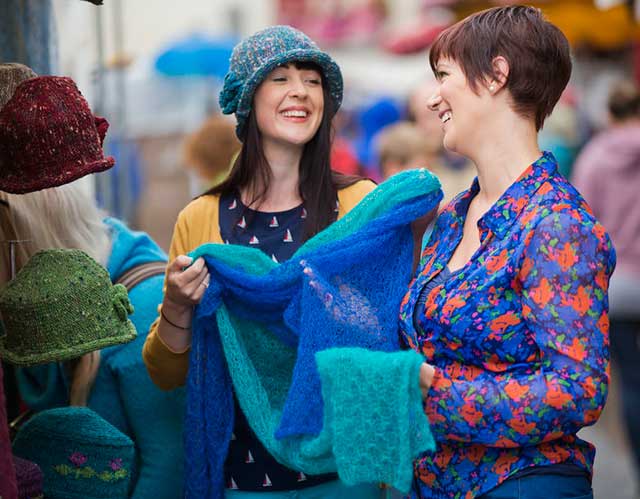 ---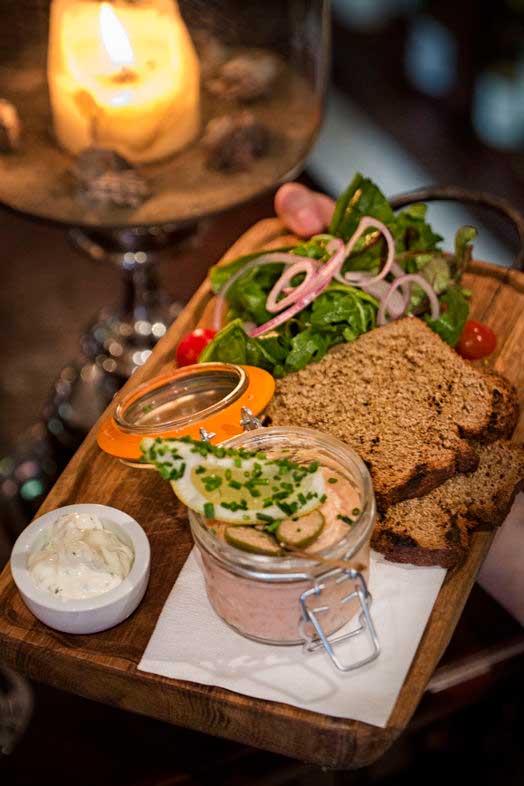 ---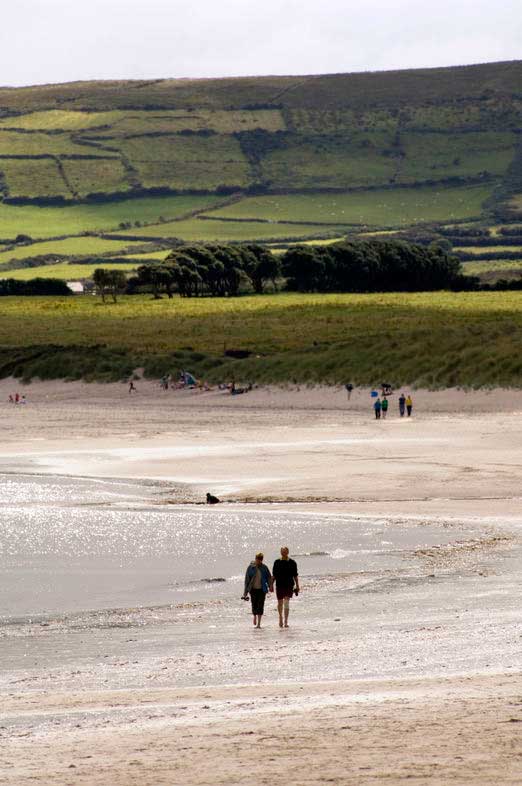 Hotels
Abbeyglen Castle Hotel, Clifden, Connemara
The Abbeyglen Castle Hotel is located on the aptly named Sky Road overlooking the quaint alpine like village of Clifden, Connemara. The Abbeyglen Castle Hotel is nestled in the romantic setting of the Twelve Bens with beautiful views overlooking Clifden Bay. The warm and friendly staff are always at hand to make your stay special, guaranteeing you an unforgettable experience. The Abbeyglen Castle Hotel is located close to Connemara's major attractions, including Kylemore Abbey, and The Connemara National Park.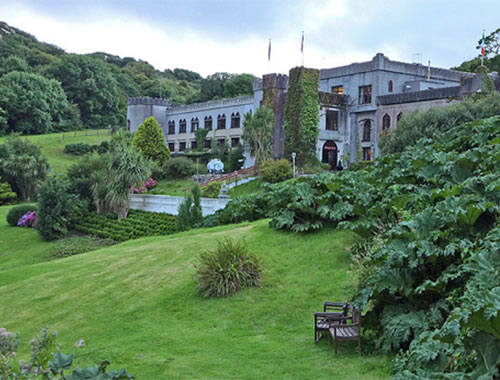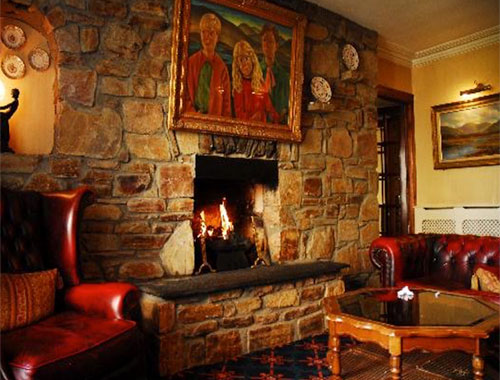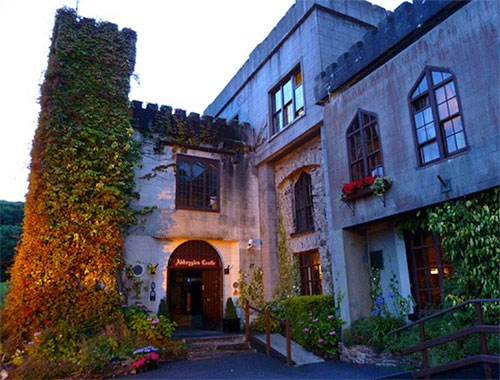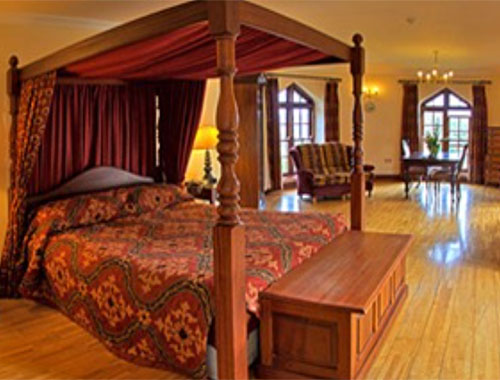 ---
Beech Hill Country House, Co. Derry
Beech Hill Derry offers guests a wide choice of extremely comfortable, cozy and well-appointed rooms. Whether in the hotel's atmospheric Georgian house in Londonderry or our more modern wing, rooms and suites are beautifully furnished and contain everything you would expect to find in a hotel of this high standard. Rejuvenate yourself in this traditionally luxurious setting.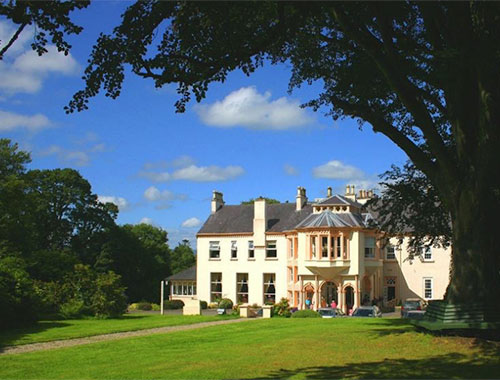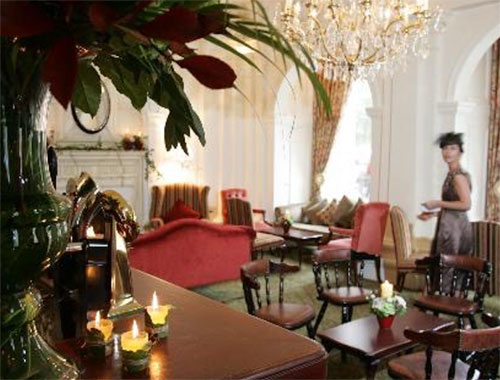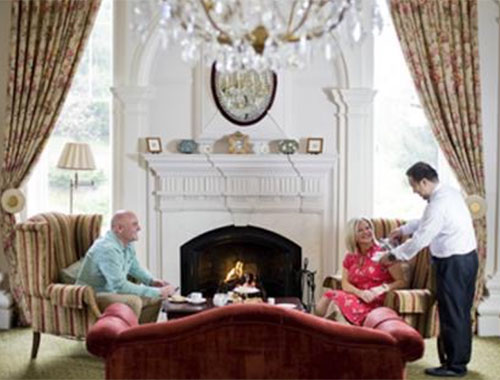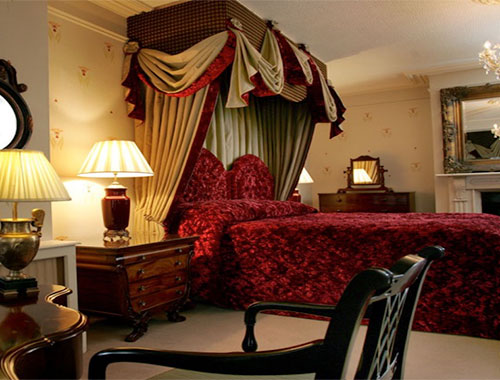 ---
Buswells Hotel, Dublin City Centre
Buswells Hotel is renowned for its friendly staff and great location.  Situated in the heart of Dublin City Centre, Buswells Hotel provides a unique and relaxing atmosphere just a stone's throw from St. Stephen's Green, Trinity College, Temple Bar and many more visitor attractions. As one of the oldest hotels in the city, Buswells has been in operation since 1882 growing from 1 townhouse to its current size of 5 townhouses. Whilst maintaining some of the original features of the Georgian era, you will find your surroundings comfortable and relaxed.  A friendly welcome (Cead Mile Fáilte), attentive customer service and lovely accommodations in the heart of the city brings guests back time and time again.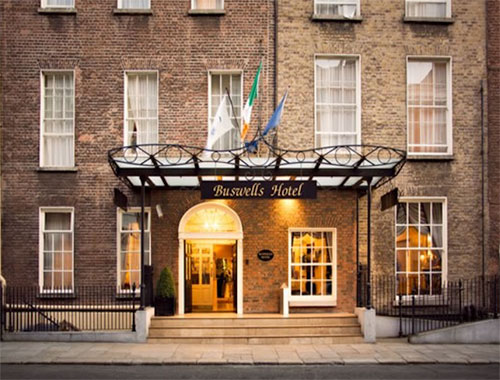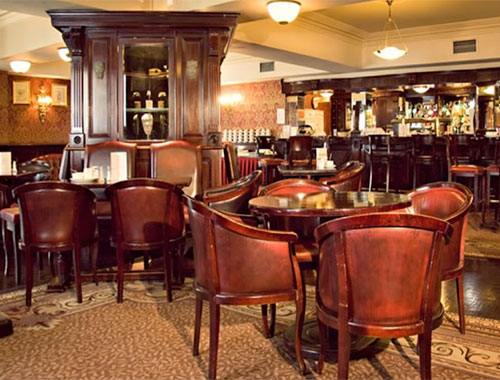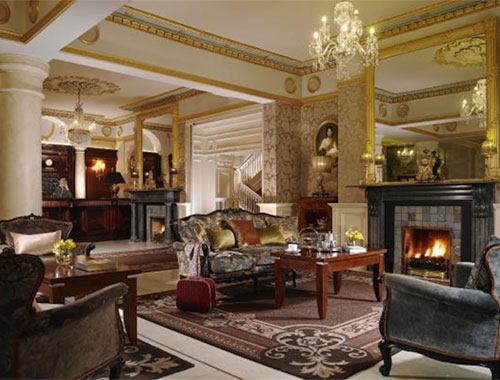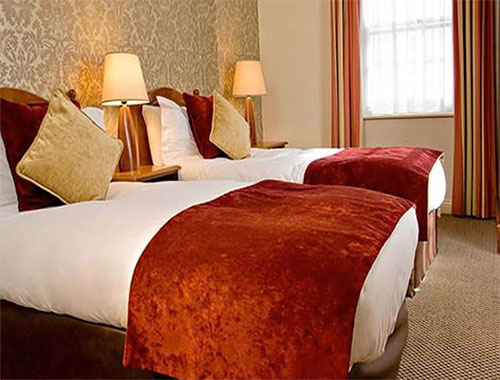 ---
Carrig House, Kerry
This charming and meticulously restored Victorian residence has a sense of timelessness about it that has captured the imagination of poets and adventurers alike. Situated on the shores of beautiful Caragh Lake in Kerry, you will find the cleanest air in Europe, beautiful gardens and natural green woodlands with spectacular views across the still waters to the wildness of the Kerry Mountains. For the past 15 years Frank & Mary have operated a very successful Country House & Restaurant and have won many rewards for their hospitality and their Lakeside Restaurant. They are members of Ireland's prestigious Blue Book.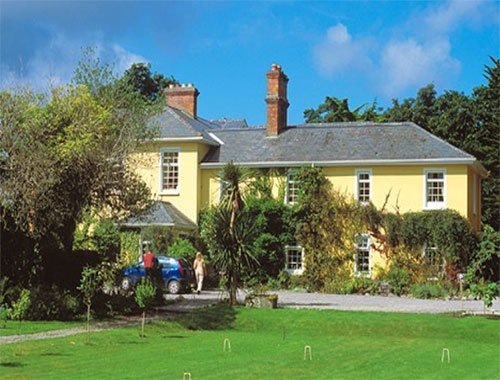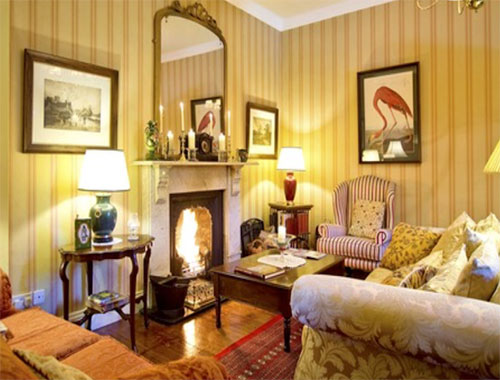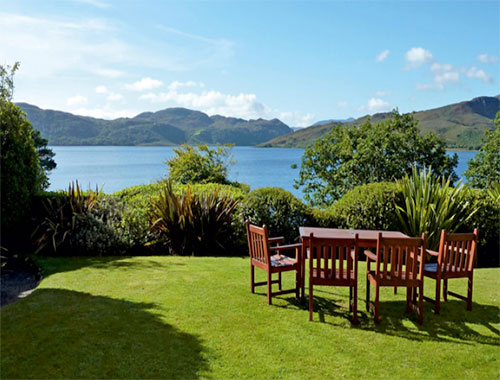 ---
Knockranny House Hotel, Wesport
Awarded 'AA Hotel of the Year 2012-2013' Knockranny House Hotel & Spa in Westport,County Mayo is recognized as one of Ireland's finest luxury 4 stardeluxe hotel and destination spa establishments. Open log fires and antique furniture combine with every modern comfort to provide visitors with the perfect hotel accommodation to truly relax in Westport, whilst enjoying the superb service, excellent cuisine and spa facilities that Knockranny House Hotel &Spa Salveo are renowned for.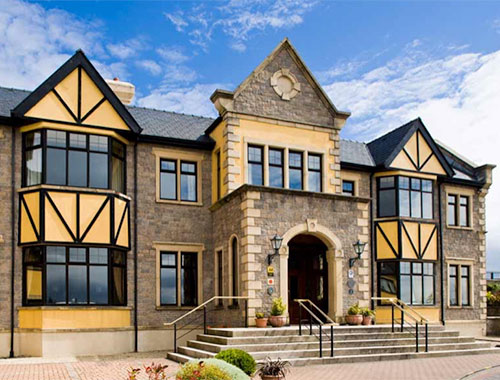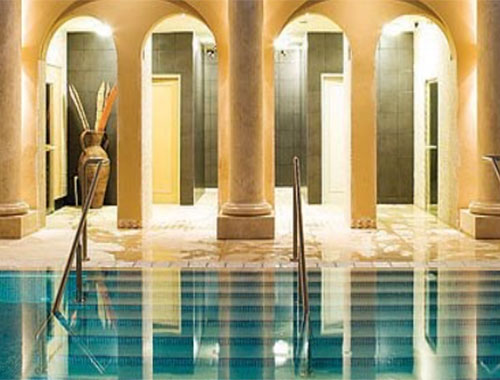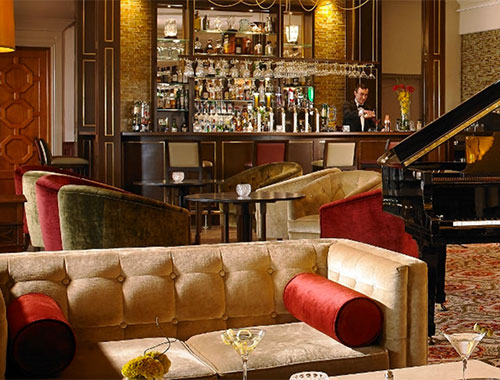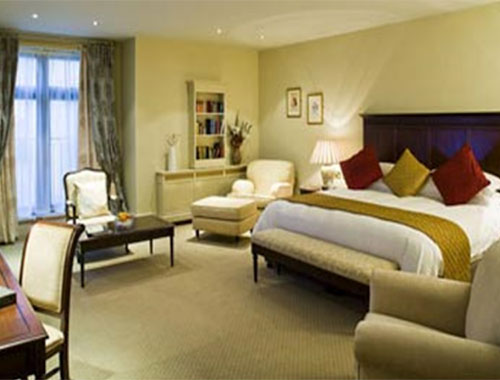 ---
Sheedy's Country House, Lisdoonvarna
Sheedy's Country House Hotel and Restaurant is a small family owned and managed 4 star hotel and award winning restaurant, situated in the village of Lisdoonvarna, on the edge of The Burren. When you stay at Sheedy's Hotel Lisdoonvarna, you instantly feel like family guests of John and Martina's 300 year old family home. The family-run atmosphere is unmistakable, but the piece de resistance of this charming hotel is the gourmet cuisine;John's passion for great food has earned him numerous awards. John and Martina, together with their children Roisin and Matthew look forward to making you feel like a very special guest in their very special home!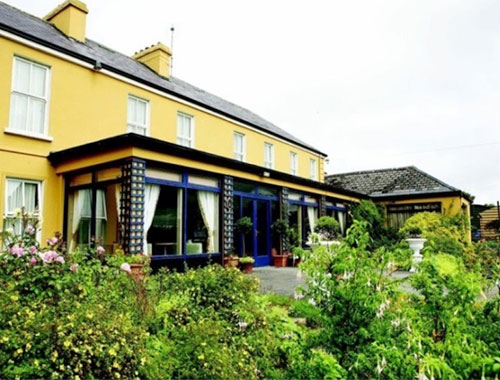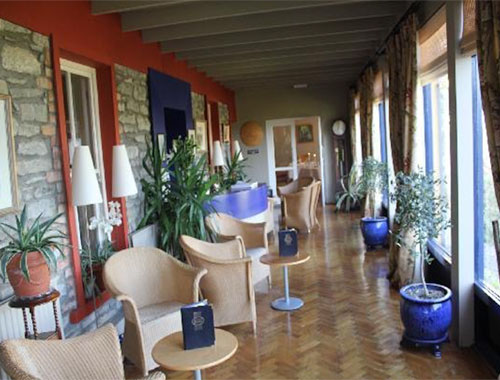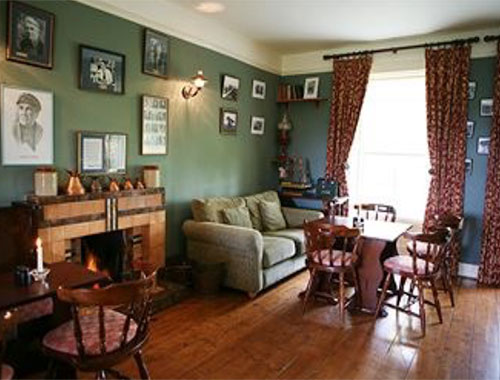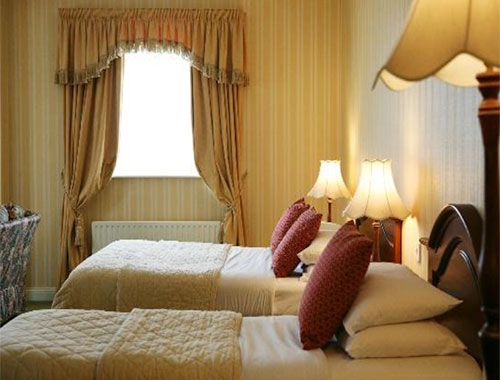 ---
The Sandhouse Hotel, Donegal
The 4 Star Sandhouse Hotel overlooking Rossnowlagh Beach on the edge of the Atlantic Ocean, has welcomed many guests over the past 50 years.  The views will take your breath away. In the recent past major development in the property has resulted in the addition of a New Marine Spa& an Award Winning Restaurant overlooking Donegal Bay. These new additions have married well into the luxurious old world feel of this Manor House Hotel.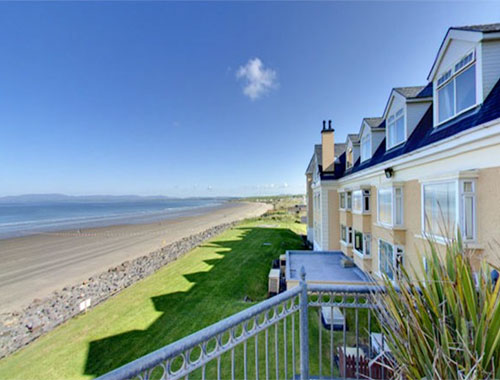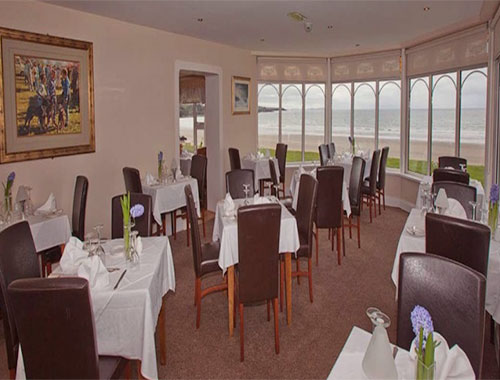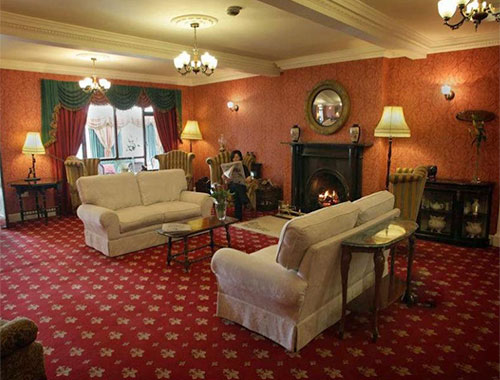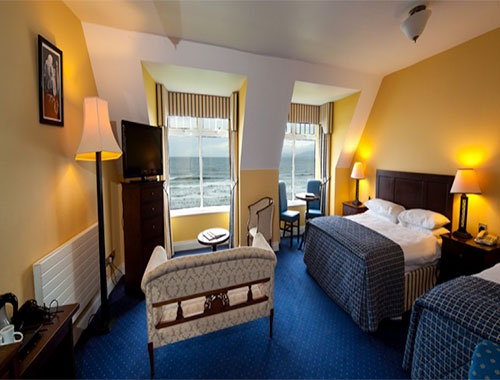 ---
The Seaview House Hotel, West Cork
Seaview House Hotel, a delightful 4 star country house hotel set in private and well tended grounds in the quiet village of Ballylickey beside Bantry in the heart of West Cork.Ideally located in the countryside but just 4 km from Bantry Town and a short-hop to Glengarriff in an area famed for its tranquillity and unique beauty, this lovely country house hotel is charm and character personified and is a welcome retreat for the leisure and business traveller alike. Located near Ballylickey Bridge over the Ouvane River it commands wonderful views of Bantry Bay from the main rooms.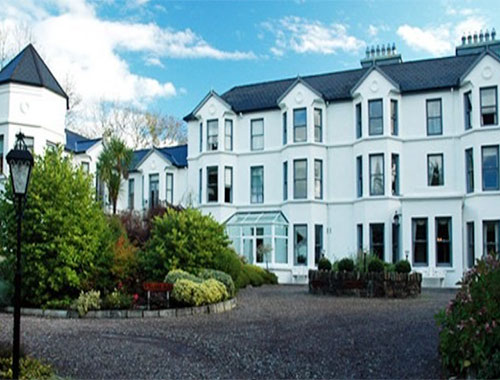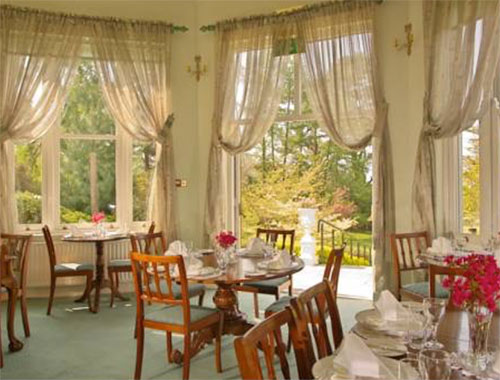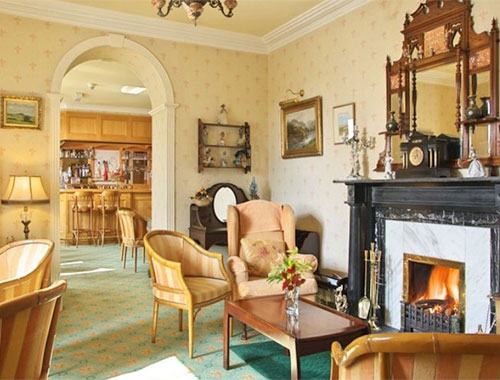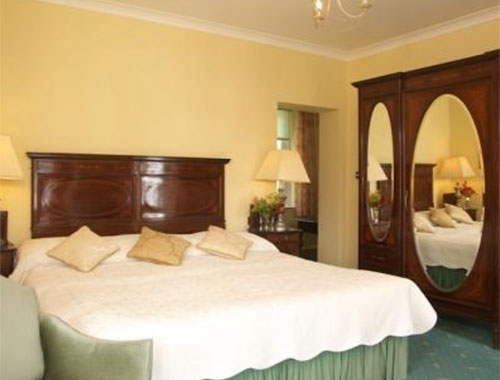 ---
Travel Tips & FAQs
Ireland
Passports & Visas
To enter the Republic or Northern Ireland, you need a valid passport. While e-passports are commonly used now, they are not a necessity to enter Ireland. UK citizens do not require a passport to enter Ireland, but carriers by air or sea require some form of identification with a photograph (usually either a passport or driving license with photo).
Citizens of the EEA member states (the 27 countries of the European Union EU, together with Iceland, Norway and Liechtenstein) and many other countries including USA, Australia, Canada and New Zealand do not require visas to gain entry to Republic or Northern Ireland.
What to Pack
Bring a sweater, even in summer; waterproofs to accompany all outdoor activities; sunglasses; comfortable walking shoes and an umbrella. The weather is changeable so go for layers that you can put on or take off as the temperature changes.
Weather
February to April: Highest temperatures range from 46 to 54°F
May to July: Highest temperatures are between 64 and 68°F
August to October: Highest temperatures hit between 64 and 57°F.
Winter air temperatures inland normally reach 46°F, while the coldest months are January and February.
April & September are considered the most pleasant and temperate months.
Currency
In the Republic of Ireland, the official currency is the euro (€). One euro consists of 100 cent. In Northern Ireland, pound sterling is the local currency (£). One pound sterling consists of 100 pence.
Gratuities
Gratuities and tips are discretionary and are not usually included in a bill. The general custom is to give 10% to serving staff in restaurants. Cafes might have a collection box at the till and bar staff are not tipped but you are free to offer "have one for yourself".
Emergency Services
Police, Fire, Ambulance:
Republic of Ireland, Telephone: 112 or 999
Northern Ireland, Telephone: 999
Gadgets
Plugs in Ireland are three-pronged, the same as in the UK and the electricity supply is also 230v. Adapters are widely available, and it's a good idea to bring a couple for your various gadgets.
Public Transportation
National Coaches
Republic of Ireland: Bus Eireann
Northern Ireland: Translink
Dublin Buses
Leap Visitor Card is a prepaid pass that allows you to travel on all Dublin Bus, Airlink 747 buses as well as the Luas Light Railway Tram and DART (Dublin Area Rapid Transit) for up to 3 days.
Railways
Republic of Ireland: Irish Rail
Northern Ireland: Northern Ireland Railways
The Dart (Dublin Area Rapid Transit) covers Dublin's coast and city area from Howth and Malahide in north County Dublin via Dun Laoghaire in south County Dublin to Greystones in County Wicklow.
Luas light rail/tram service travels across the south and west of Dublin city including the city center areas.
Time Zone
Ireland functions on Greenwich Mean Time (GMT). During the summer it becomes GMT+1, that's Irish Standard Time (IST) in the Republic and British Summer Time (BST) in Northern Ireland.
For example, New York is Irish Time -5 hours & Los Angeles is Irish Time -8 hours.
Language
English is commonly used throughout Ireland although Irish is the official language and there are Irish speaking areas called the Gaeltacht where it is the predominant language.
Driving
You will need either a full valid national driving license or an international driving permit. Cars in Ireland drive on the left-hand side of the road and both driver and passengers are required to wear seat belts at all times by law. Signposts in Gaeltacht (Irish speaking) areas are written in Irish (Gaelic) so familiarise yourself with both English and Irish spellings before you set off for those parts. Northern Ireland uses miles per hour, while the Republic of Ireland uses kilometers for signage and speed limits.
Vaccinations
There are no vaccinations required to visit Ireland.
---
Testimonials
"Back from a great golf trip and thanks so much for your assistance. Hotels were outstanding and made for a wonderful relaxing trip."
– Tim Dudich
---
"I wanted to let you know that our trip was one for the ages. We had more fun than I could have imagined."
– Herb Bennett
---
"To say our group had an awesome time on our trip would be the understatement of the century."
– John C. Granzow, CIMA
---
"I will have no hesitation in recommending your company for future use! I felt as if you and your company gave us top notch customer service and never batted an eye for what may have been odd questions – that type of service is hard to find. You really gave us personal service!"
– Leslie Wajda
---
"Trip was great – accommodations excellent."
– Kathleen McCormack-Batterson
---
"This note is to praise Destinations Ireland and our driver, James Finn, who truly made our trip a pleasure!"
– Donna Long
---
"The trip was really great.  You did a fabulous job of picking the properties. Scotland is beautiful! It was a great trip. You scored again! Can't wait for our next adventure."
– Libby McGriff
---
"I wanted to let you know that the accommodations were fabulous throughout our trip. We were completely blown away, what a magnificent find. The house is simply breathtaking. A word on the drivers. I could not have asked for more accommodating or entertaining gentleman to escort us around. They were full of information, great stories, and advice. Really, really just wonderful guys all around."
– Susanne McNeill
---
"A masterful job in creating and arranging such a phenomenal trip…"
– P.J. Fitzgerald
---
"We had a "dream trip" and you/your organization were a large part it making it all happen. Everything went smoothly and was more than we ever imagined! We are already talking about a return trip in a few years! Have to save our money. 🙂 Thanks again for all you did for us."
– Nancy Capocy
---
"I cannot express how much I appreciate you making all the arrangements with such short notice & I just wanted to say Thank you again for all your help."
– Susan Sanford
---
"All I do is talk about the wonderful trip, sites and your company and how we couldn't have been happier with all the arrangements and people who set this wonderful trip up. Again thank you!!!"
– Janet Jenrick
---
"We had a wonderful time in Ireland and I appreciate all the reservations you made and the guidance your gave us."
– Monica Kobasic
---
"I wanted to thank you for arranging a great trip to Scotland. The Channings, Culloden House, and Roxburghe House were fantastic…the best of accommodations, food, and customer service"
– Trina Girimont
---
"I wanted to thank you and Destinations Ireland and Beyond. We had an amazing experience. We loved all the hotels that you set us up with. Thank you for being so insightful, quickly giving us a speed course of Ireland and helping us decide where to go and what to see. I would highly recommend Destinations Ireland and Beyond as the best travel agency!"
– Donna and Ira Spector
---
"A lot of beautiful memories. THANK YOU for all of your planning and attention to detail,"
– Kathy Ross
---
"I just wanted to send you a thank you for all you did to make our trip the best! It was beyond our expectations! We loved all of our accommodations. I can't say that I have a favorite because it all was perfect. We were not ready to come home and all look forward to visiting Ireland again."
– Peg Cozzolino
---
"I want to THANK ALL OF YOU FOR A WONDERFUL TRIP. Ronelle and I had a marvelous time."
– P.J. "Paul" Nicholson
---
"Thank You! for all your help arranging a wonderful visit to Ireland."
– Ron & Jennifer Spielman
---
"Tim and I had a wonderful trip to Ireland thanks to your wonderful suggestions and arrangements. Everything was just perfect. We truly had a wonderful trip and are grateful for your services."
– Jenny Popp
---
"Thank you for the great job you did arranging our trip to Ireland. Everything went wonderfully and the accommodations were the best."
– Elizabeth Zechman
---
Booking Enquiry for The Wild Atlantic Way, 14 Day Tour
You can use this form to contact us with your preferred date of travel, the number of people in your party and your requirements and we will get back to you with a quote.