Northern Ireland & Dublin
| The Giant's Causeway, Shillanavogy, Ballycastle, Castle Ward, Inch Abbey, Dublin |
9 Days & 8 Nights
'Game of Thrones' Adventure Tour

Self Drive Tour or Luxury Chauffeured Tour
Enter a mythical land of ancient warriors, dark and light magic, Kings, Queens and dragons.

Step inside the footsteps of your favourite characters in the epic series, Game of Thrones, and experience the dramatic, wild, and mystical landscapes of this fantasy for real.
"This note is to praise Destinations Ireland and our driver, James Finn, who truly made our trip a pleasure!"

– Donna Long
---
Highlights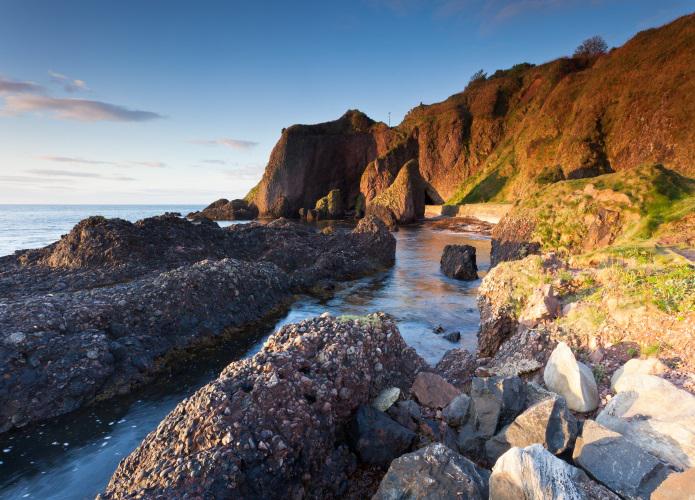 The Game of Thrones™ world can be a dark and twisted place. Thank the Gods that its lands are divinely beautiful. On our Game of Thrones Adventure Tour in Northern Ireland encounter the Seven Kingdoms and explore the stunning, and dramatic locations, where the hit HBO TV series is filmed. So sharpen your sword, tighten your shield-strap, and set forth on a journey into the real world Westeros.

To customize this itinerary, talk to one of our destination experts on 800.832.1848 or 212.757.5797.
Visit Belfast and Titanic Studios
Stay in Ballygally Castle in Northern Ireland.
Visit Cushendun Caves, otherwise known as Storm's End
Visit the location of Murlough Bay & The Giant's Causeway
Explore Shillanavogy Valley, the location for the Dothraki grasslands
Visit The Dark Hedges, and the village of Ballycastle
Discover the ancestral seat of House Baratheon, at Larrybane
Discover the Carrick-A-Rede Rope Bridge
Visit Downhill Strand,  the location of the sinister ritual of the burning of the seven old Gods on Dragonstone
Tour Castle Ward on Strangford Lough, once House Stark at Winterfell
Explore Inch Abbey,  the location for The Twins and the Riverlands,
Discover Tollymore Forest Park, where Theon was stalked by Ramsay Snow
Visit the enchanting and remote Ballynoe Stone Circle in Downpatrick
Drive south to Dublin City
Explore the sights and sounds of Dublin City
Included in This Tour
8 nights deluxe hotel accommodations with full breakfast daily.
Self-Drive rental vehicle with unlimited mileage and CDW insurance. OR upgrade to the services of a Professional Driver Guide.
Touring Map of Ireland & List of recommended pubs, restaurants and places of interest.
An exclusive & extensive list of all the best craft trails and activities in Ireland.
Deluxe portfolio of travel Documents & Personalized Itinerary.
24/7 Concierge service in Ireland while travelling.
Discount admissions booklet for area attractions.
Not Included: Airfare, tips, travel insurance, and items of a personal nature.
Flight Information
Arrive: Dublin (DUB)
Depart: Dublin (DUB)
Airfare is Additional
Take the hassle out of booking flights. Ask about our best available Economy Fares as well as our Preferred Business and First Class Offers. Our air department experts can help with competitive rates. Just let us know your preferred dates and U.S. Departure City. We will do the rest.
Meals
---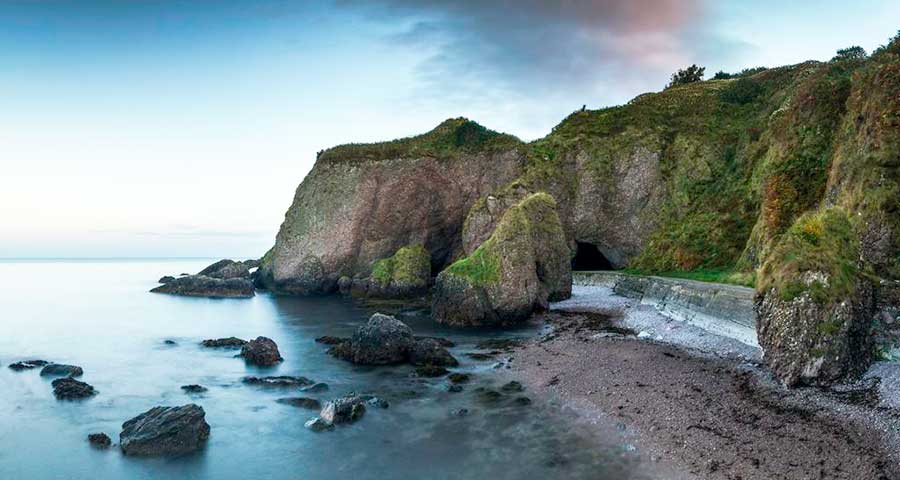 Day 1
Arriving in Dublin Airport, pick up your rental car. Enjoy the scenic drive North to County Antrim, where you will stay 4 nights in Ballygally Castle. On the way to County Antrim, make a stop in Belfast City to visit the Titanic Studios, now known as the 'Paint Hall'. Remember the dramas in the Throne Room, the Sept of Baelor and the Eyrie? Titanic Studios is the location for many of these interior scenes in Game of Thrones. After your tour, enjoy lunch in a local pub before continuing your drive to Ballygally Castle. (We'll give you an insiders' list of our favorite pubs and restaurants!) This afternoon settle in and take in your beautiful surroundings. Before dinner, perhaps you would enjoy visiting Dunluce Castle, perched dramatically on towering cliffs high above the North Channel. It is a magnificent sight.
Day 2
After a hearty Irish breakfast, visit Cushendun Caves, otherwise known as Storm's End, to the spot where Davos Seaworth and Lady Melisandre landed, and birthplace of the shadow baby. These swirling caves are where it all happened. Drive on to Murlough Bay. A treacherous place, Murlough Bay has seen its share of Game of Thrones' drama. It was the setting for Theon's awkward horse ride with sister Yara, and it was also the place where Davos is rescued from the Fingers by a passing ship. After Murlough Bay, enjoy exploring the stunning Giant's Causeway, an area of about 40,000 interlocking basalt columns – the result of an ancient volcanic eruption – buffeted by the wild sea. Legends, dating back to 3rd century, tell how this causeway was built by the giant Finn MacCool, who was 54 foot tall, and leader of a tribe of warriors, called the Fianna.
Day 3
Today, visit Shillanavogy Valley, below Slemish Mountain in County Antrim, the location for the Dothraki grasslands. Here we met the Khal and his future Khaleesi for the first time. Slemish Mountain is where St. Patrick watched sheep, when he was first brought to Ireland as a slave. Drive onward to The Dark Hedges in Ballymoney. The Dark Hedges is an avenue of 200-year-old beech trees on the Bregagh Road. This avenue was already one of Northern Ireland's most-famous landmarks long before Ayra Stark escaped from King's Landing disguised as a boy. It is said to be haunted by the Grey Lady, a ghost who appears at dusk. Around the other side of Fair Head, is the village of Ballycastle, birthplace of both the actor Conleth Hall and Varys, the character he plays. Some of the Free Cities' scenes have been filmed here.
Day 4
Today you will discover the ancestral seat of House Baratheon, Storm's End. Head for Larrybane, and the setting for the imposing fortress where Renly resided and Brienne of Tarth appeared in a 'tourney' (tournament). Larrybane Head is famous for the Carrick-A-Rede rope bridge, linking the mainland to the tiny island of Carrickarede. Next, tour the Antrim plateau near Cairncastle. Ned Stark knows the Antrim plateau all too well. It was on these rolling hills that he beheaded a Night's Watch deserter, who warned of strange happenings beyond the Wall. For your last stop today, venture to Downhill Strand, in County Derry. This is the location of the sinister ritual of the burning of the seven old Gods on Dragonstone.
Day 5
After breakfast this morning, drive to County Down. Tour Castle Ward, on the shore of Strangford Lough. Castle Ward was once House Stark. This 18th century castle doubled as Winterfell and its surrounding lands. King Robert Baratheon and his entourage arrived here in Season One, and set in motion the deadly 'Game of Thrones'. Near Castle Ward is Audley's Field. Sitting on the shore of Strangford Lough, Audley's Field is the scene for plenty of Game of Thrones' drama, including Robb's camp, the capture (and release) of the Kingslayer, and Talisa tending to the wounded. You will stay 2 nights at The Slieve Donard. Settle in this evening and enjoy a delicious meal by the fire.
Day 6
Today, visit Inch Abbey, on the River Quoile outside Downpatrick, County Down. The monastic ruins at Inch Abbey are the location for The Twins and the Riverlands. The Hoster Tully funeral was set here. It is also where The Hound and Arya journeyed towards the Red Fork. This is a stunning, mystical location. Afterwards visit Tollymore Forest Park, at the foothills of the Mourne Mountains. The verdant and vibrant Tollymore Forest Park is where Theon was stalked by Ramsay Snow, as well as depicting the snow-covered lands between Winterfell and the Wall. Visit the enchanting and remote Ballynoe Stone Circle in Downpatrick.
Day 7
Drive south to Dublin, where you will stay 2 nights in Brooks Hotel, in the heart of the City Centre. Return your rental car, settle in and enjoy all Dublin has to offer. Maybe take a horse and carriage ride through Dublin's historical Georgian Squares? Enjoy a lunch of Guinness and oysters at 'Davy Byrnes' Gastro Pub, and stroll down bustling Grafton Street. Or choose to tour the Jameson Distillery this afternoon. Visit O'Donohue's pub tonight for some great traditional Irish music.
Day 8
Explore The Dublin Writers Museum, The Guinness Brewery, Temple Bar, Trinity College and the Book of Kells, an exquisite illuminated manuscript created by monks circa 800. You can also take 'a hop on hop off' double decker bus tour of Dublin. It is a fantastic way to see the city at your own pace. For your last night in Ireland, we recommend dinner at The Brazen Head, the oldest pub in Dublin. They have a brilliant traditional Irish Folklore night full of storytelling, legends, music, and food.
Day 9
Enjoy a private transfer to Dublin airport, and prepare for your return flight home.

To customize this itinerary, talk to one of our destination experts on 800.832.1848 or 212.757.5797.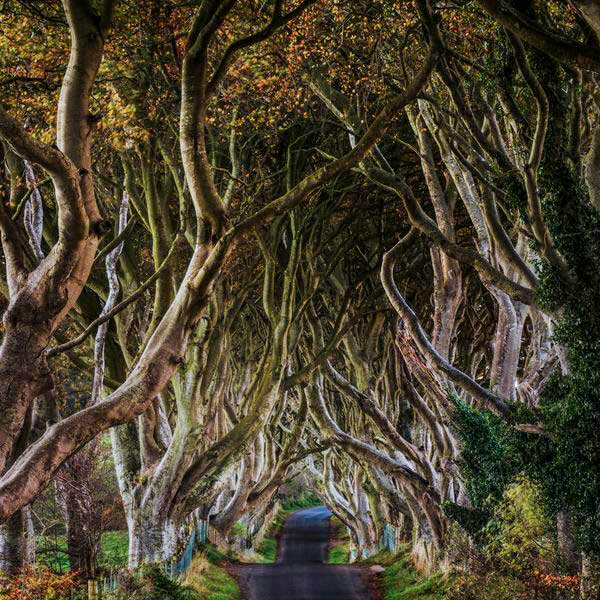 ---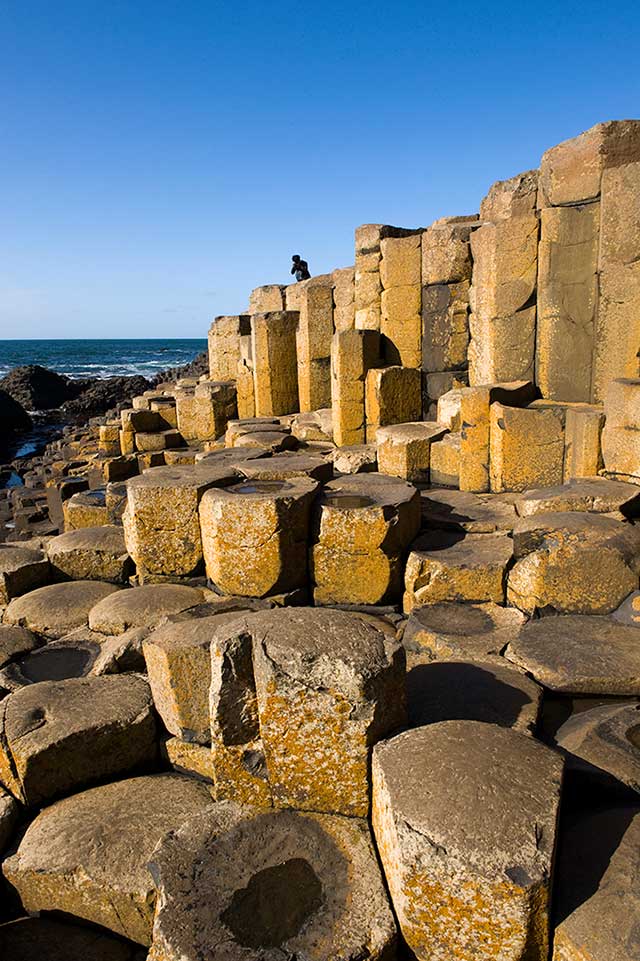 ---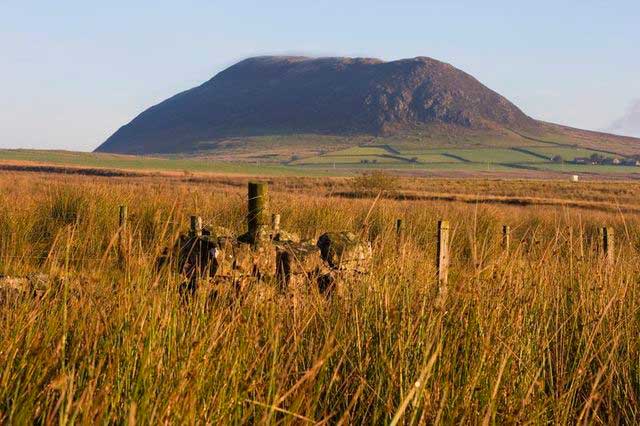 ---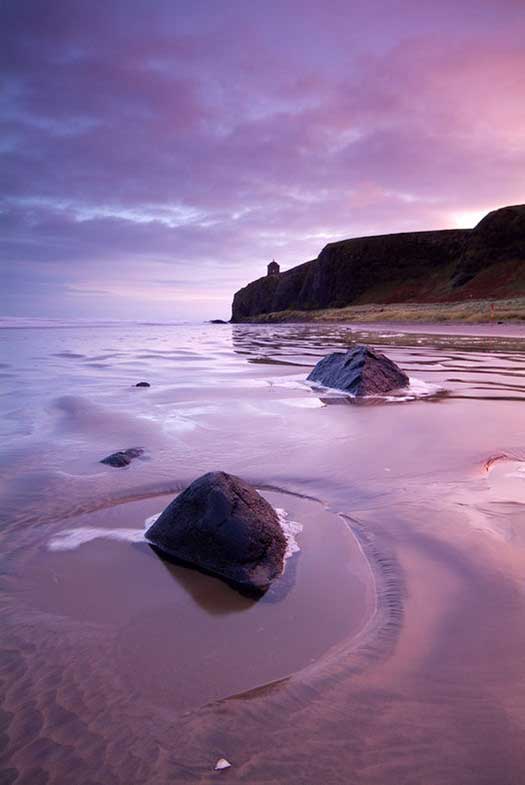 Hotels
Ballygally Castle, Co. Antrim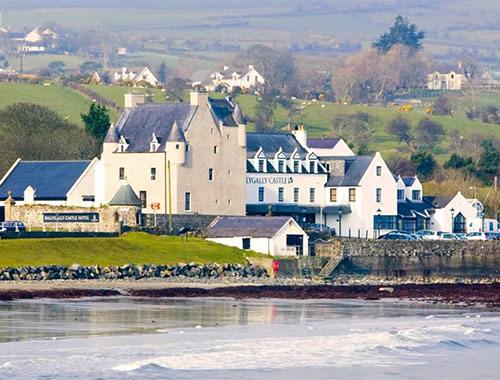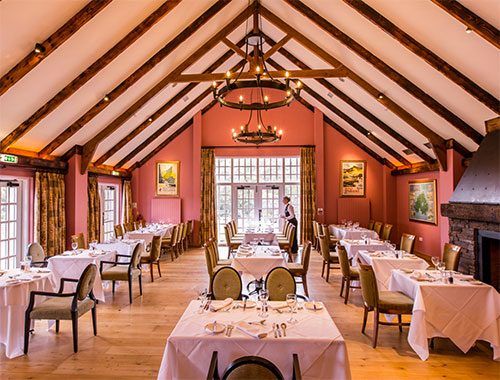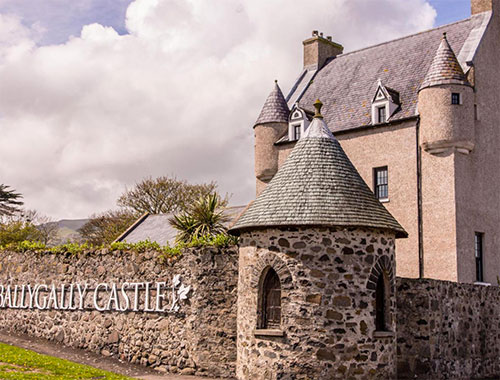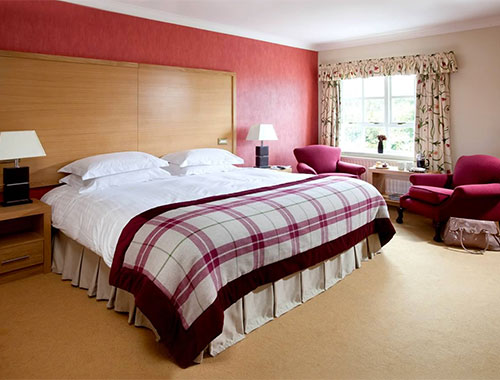 ---
Brooks hotel, Dublin
Situated only minutes from Grafton Street in the fashionable heart of Dublin city, Brooks Hotel is the perfect place to stay. Most of the city's key attractions are within walking distance to the hotel and include: the best shopping streets in the capital, St. Stephen's Green, the Guinness storehouse, Dublin Castle, Trinity College and many popular art galleries, theatres, museums and entertainment venues. Luxuriously appointed rooms coupled with excellent food, fine wines and exemplary levels of customer care and service, are what make a visit to Brooks such a special and rewarding experience.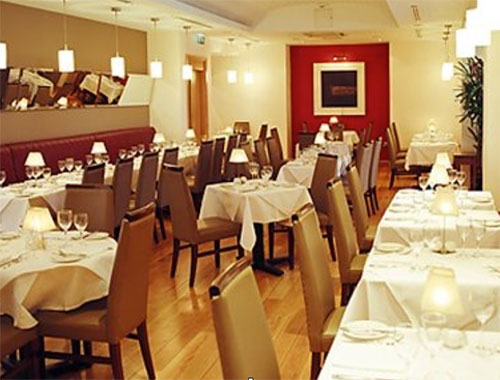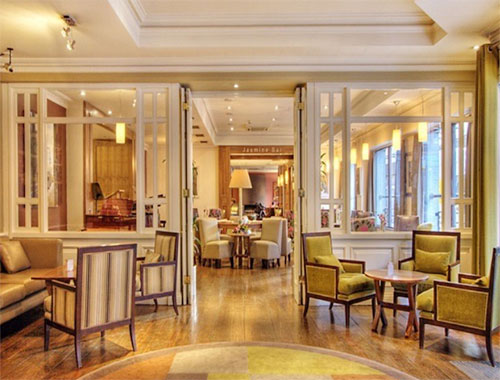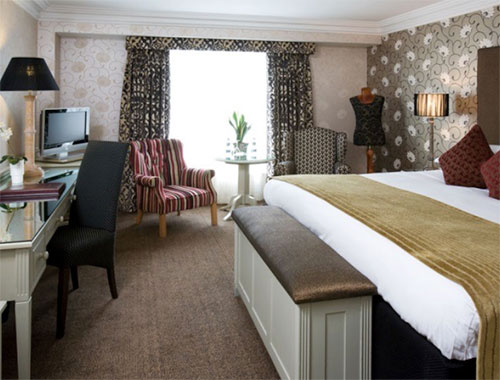 ---
Slieve Donard Resort & Spa, County Antrim
Named Best Irish Hotel at the prestigious Travel Media Awards, 2012 the Slieve Donard Resort & Spa is the perfect spot for some well-earned pampering and play. Nestling at the foot of the Mountains of Mourne, this magnificent hotel stands in six acres of immaculate private grounds. A golden strand of beach borders one side while the mighty Royal County Down golf links frames the other. This lovingly maintained Victorian hotel is now home to one of Europe's finest resort Spas.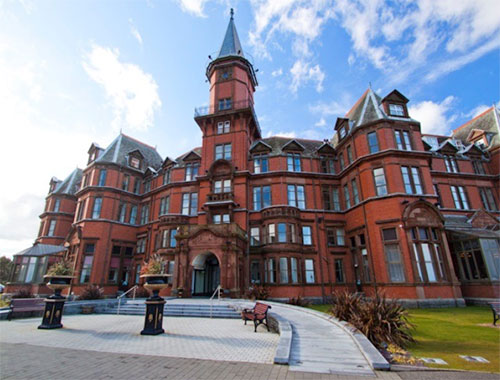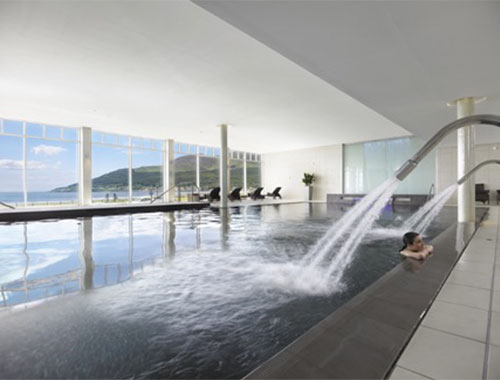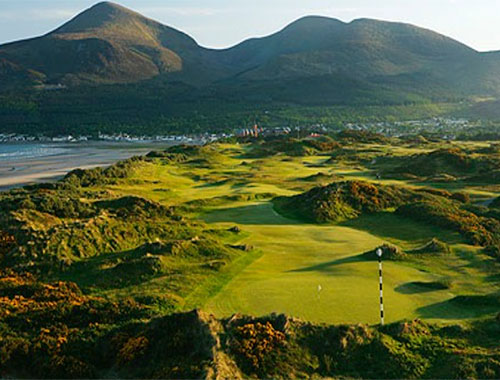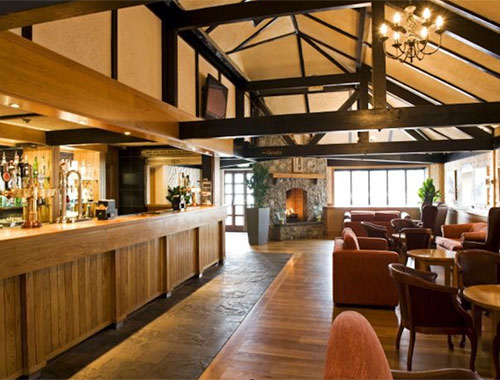 ---
Travel Tips & FAQs
Ireland
Passports & Visas
To enter the Republic or Northern Ireland, you need a valid passport. While e-passports are commonly used now, they are not a necessity to enter Ireland. UK citizens do not require a passport to enter Ireland, but carriers by air or sea require some form of identification with a photograph (usually either a passport or driving license with photo).
Citizens of the EEA member states (the 27 countries of the European Union EU, together with Iceland, Norway and Liechtenstein) and many other countries including USA, Australia, Canada and New Zealand do not require visas to gain entry to Republic or Northern Ireland.
What to Pack
Bring a sweater, even in summer; waterproofs to accompany all outdoor activities; sunglasses; comfortable walking shoes and an umbrella. The weather is changeable so go for layers that you can put on or take off as the temperature changes.
Weather
February to April: Highest temperatures range from 46 to 54°F
May to July: Highest temperatures are between 64 and 68°F
August to October: Highest temperatures hit between 64 and 57°F.
Winter air temperatures inland normally reach 46°F, while the coldest months are January and February.
April & September are considered the most pleasant and temperate months.
Currency
In the Republic of Ireland, the official currency is the euro (€). One euro consists of 100 cent. In Northern Ireland, pound sterling is the local currency (£). One pound sterling consists of 100 pence.
Gratuities
Gratuities and tips are discretionary and are not usually included in a bill. The general custom is to give 10% to serving staff in restaurants. Cafes might have a collection box at the till and bar staff are not tipped but you are free to offer "have one for yourself".
Emergency Services
Police, Fire, Ambulance:
Republic of Ireland, Telephone: 112 or 999
Northern Ireland, Telephone: 999
Gadgets
Plugs in Ireland are three-pronged, the same as in the UK and the electricity supply is also 230v. Adapters are widely available, and it's a good idea to bring a couple for your various gadgets.
Public Transportation
National Coaches
Republic of Ireland: Bus Eireann
Northern Ireland: Translink
Dublin Buses
Leap Visitor Card is a prepaid pass that allows you to travel on all Dublin Bus, Airlink 747 buses as well as the Luas Light Railway Tram and DART (Dublin Area Rapid Transit) for up to 3 days.
Railways
Republic of Ireland: Irish Rail
Northern Ireland: Northern Ireland Railways
The Dart (Dublin Area Rapid Transit) covers Dublin's coast and city area from Howth and Malahide in north County Dublin via Dun Laoghaire in south County Dublin to Greystones in County Wicklow.
Luas light rail/tram service travels across the south and west of Dublin city including the city center areas.
Time Zone
Ireland functions on Greenwich Mean Time (GMT). During the summer it becomes GMT+1, that's Irish Standard Time (IST) in the Republic and British Summer Time (BST) in Northern Ireland.
For example, New York is Irish Time -5 hours & Los Angeles is Irish Time -8 hours.
Language
English is commonly used throughout Ireland although Irish is the official language and there are Irish speaking areas called the Gaeltacht where it is the predominant language.
Driving
You will need either a full valid national driving license or an international driving permit. Cars in Ireland drive on the left-hand side of the road and both driver and passengers are required to wear seat belts at all times by law. Signposts in Gaeltacht (Irish speaking) areas are written in Irish (Gaelic) so familiarise yourself with both English and Irish spellings before you set off for those parts. Northern Ireland uses miles per hour, while the Republic of Ireland uses kilometers for signage and speed limits.
Vaccinations
There are no vaccinations required to visit Ireland.
---
Testimonials
"Back from a great golf trip and thanks so much for your assistance. Hotels were outstanding and made for a wonderful relaxing trip."
– Tim Dudich
---
"I wanted to let you know that our trip was one for the ages. We had more fun than I could have imagined."
– Herb Bennett
---
"To say our group had an awesome time on our trip would be the understatement of the century."
– John C. Granzow, CIMA
---
"I will have no hesitation in recommending your company for future use! I felt as if you and your company gave us top notch customer service and never batted an eye for what may have been odd questions – that type of service is hard to find. You really gave us personal service!"
– Leslie Wajda
---
"Trip was great – accommodations excellent."
– Kathleen McCormack-Batterson
---
"This note is to praise Destinations Ireland and our driver, James Finn, who truly made our trip a pleasure!"
– Donna Long
---
"The trip was really great.  You did a fabulous job of picking the properties. Scotland is beautiful! It was a great trip. You scored again! Can't wait for our next adventure."
– Libby McGriff
---
"I wanted to let you know that the accommodations were fabulous throughout our trip. We were completely blown away, what a magnificent find. The house is simply breathtaking. A word on the drivers. I could not have asked for more accommodating or entertaining gentleman to escort us around. They were full of information, great stories, and advice. Really, really just wonderful guys all around."
– Susanne McNeill
---
"A masterful job in creating and arranging such a phenomenal trip…"
– P.J. Fitzgerald
---
"We had a "dream trip" and you/your organization were a large part it making it all happen. Everything went smoothly and was more than we ever imagined! We are already talking about a return trip in a few years! Have to save our money. 🙂 Thanks again for all you did for us."
– Nancy Capocy
---
"I cannot express how much I appreciate you making all the arrangements with such short notice & I just wanted to say Thank you again for all your help."
– Susan Sanford
---
"All I do is talk about the wonderful trip, sites and your company and how we couldn't have been happier with all the arrangements and people who set this wonderful trip up. Again thank you!!!"
– Janet Jenrick
---
"We had a wonderful time in Ireland and I appreciate all the reservations you made and the guidance your gave us."
– Monica Kobasic
---
"I wanted to thank you for arranging a great trip to Scotland. The Channings, Culloden House, and Roxburghe House were fantastic…the best of accommodations, food, and customer service"
– Trina Girimont
---
"I wanted to thank you and Destinations Ireland and Beyond. We had an amazing experience. We loved all the hotels that you set us up with. Thank you for being so insightful, quickly giving us a speed course of Ireland and helping us decide where to go and what to see. I would highly recommend Destinations Ireland and Beyond as the best travel agency!"
– Donna and Ira Spector
---
"A lot of beautiful memories. THANK YOU for all of your planning and attention to detail,"
– Kathy Ross
---
"I just wanted to send you a thank you for all you did to make our trip the best! It was beyond our expectations! We loved all of our accommodations. I can't say that I have a favorite because it all was perfect. We were not ready to come home and all look forward to visiting Ireland again."
– Peg Cozzolino
---
"I want to THANK ALL OF YOU FOR A WONDERFUL TRIP. Ronelle and I had a marvelous time."
– P.J. "Paul" Nicholson
---
"Thank You! for all your help arranging a wonderful visit to Ireland."
– Ron & Jennifer Spielman
---
"Tim and I had a wonderful trip to Ireland thanks to your wonderful suggestions and arrangements. Everything was just perfect. We truly had a wonderful trip and are grateful for your services."
– Jenny Popp
---
"Thank you for the great job you did arranging our trip to Ireland. Everything went wonderfully and the accommodations were the best."
– Elizabeth Zechman
---
Booking Enquiry for 'Game of Thrones' Adventure Tour
You can use this form to contact us with your preferred date of travel, the number of people in your party and your requirements and we will get back to you with a quote.