Scotland
| Edinburgh, Inverness, Culloden Battle Fields, Loch Ness, Isle of Skye, Fort William |
9 Days & 8 Nights
Royal Scotland

Luxury Chauffeured Tour or Self Drive
A trip fit for Kings & Queens.

Immerse yourself in the majestic history and the splendor of Scotland's landscape.
"To say our group had an awesome time on our trip would be the understatement of the century."

– John C. Granzow, CIMA
---
Highlights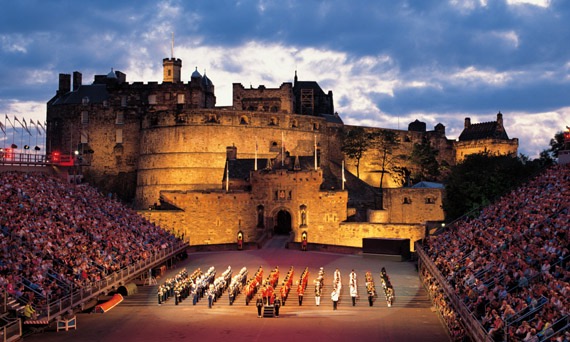 Scotland is a land rich with history, legend, romance and mystery. While you stay in luxury country manors, explore castles, pre-historic ruins, and medieval abbeys amid the rugged beauty of the highlands and the wild magnificence of the coastline. Maybe you will get to see the elusive Loch Ness Monster! In Edinburgh stroll the Royal Mile, once reserved for royalty only. From fascinating museums to legendary castles to stunning scenery, Royal Scotland is a tour brimming with Scottish treasures!

To customize this itinerary, talk to one of our destination experts on 800.832.1848 or 212.757.5797.
Explore Edinburgh city, visiting Edinburgh Castle and the Palace of Holyroodhouse
Drive north to Inverness, visiting the city of Perth
Tour Culloden Battlefield site, Cawdor and Brodie Castle, and Dallas Dhu Distillery
Discover Loch Ness, Urquhart Castle and the iconic Eilean Donan Castle
Stay on the legendary Isle of Skye and explore its rugged beauty
Visit Trossachs National Park, and Stirling with its historic castle
Included in This Tour
8-nights luxury hotel accommodation with private en suite facilities.
Private airport transfers on day of arrival and departure.
Services of a professional private Driver Guide for 7-Days OR Car rental including unlimited miles and CDW Insurance.
Custom-designed itinerary for your approval.
All accommodation taxes and service charges.
Services of our offices and 24/7 Concierge Service while traveling.
Not Included: Airfare, tips, travel insurance, and items of a personal nature.
Flight Information
Arrive: Edinburgh (EDI)
Depart: Edinburgh (EDI)
Airfare is Additional
Take the hassle out of booking flights. Ask about our best available Economy Fares as well as our Preferred Business and First Class Offers. Our air department experts can help with competitive rates. Just let us know your preferred dates and U.S. Departure City. We will do the rest.
Meals
---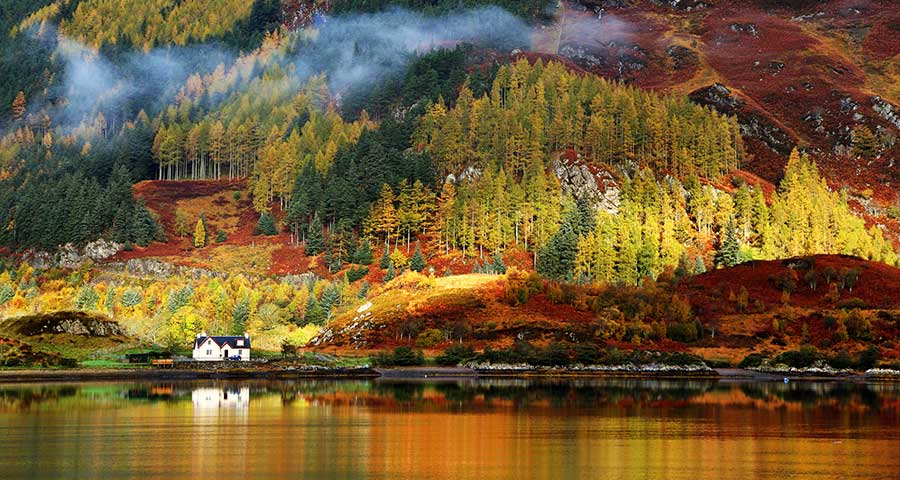 Day 1
Arriving in Edinburgh Airport, enjoy a private transfer to the heart of Edinburgh city where you will stay 2 nights at The Balmoral Hotel. The celebrated Scottish writer Robert Louis Stevenson wrote in the nineteenth century, "Edinburgh is what Paris ought to be." It is still a majestic city memorable for the grace and beauty of the neo-classical Georgian New Town and the unique medieval street layout of Old Town. Dominating the skyline, and perched on Castle Rock, is Edinburgh Castle. Settle into your new surroundings and enjoy a leisurely walk through this culturally rich city.
Day 2
After breakfast, visit Edinburgh Castle and see the Scottish Crown Jewels and the Palace of Holyroodhouse. Founded as a monastery in 1128, Holyrood Palace in Edinburgh is the Queen's official residence in Scotland. Situated at the end of the Royal Mile, Holyrood Palace is closely associated with Scotland's turbulent past. One of its most famous residents was the ill-fated Mary, Queen of Scots, who lived there from 1561 to her forced abdication in 1567. We recommend taking a 'Hop on, Hop off' bus tour of the city. It's a fantastic way to get around and see all the best sights! If visiting in August attend the magnificent Military Tattoo, an experience not to be missed.
Day 3
Today, pick up your rental car or meet your driver guide. Drive north to Inverness. Visit Perth and the Palace of Scone, Pitlochry and Blair Castle, Loch Garten and Cairngorm Mountain. Many Scottish kings were crowned on the Stone of Destiny at Scone Palace. Today, Perth is a bustling city of around 50,000 inhabitants. It offers a range of entertainment, shops, cafés and restaurants and is recognized as one of Scotland's premier culinary centers. Stay 2-nights at the Kingsmills Inn.
Day 4
Tour the surrounding area including the Culloden Battlefield site, Clava Cairns, Cawdor and Brodie Castles and the Dallas Dhu Distillery. The Battle of Culloden on 16 April 1746 was the final confrontation of the Jacobite rising of 1745. Jacobite forces fighting to reclaim the British throne for a Stuart King clashed with loyalist troops. The Hanoverian victory halted the Jacobite intent to overthrow the House of Hanover. In Scotland this ferocious war divided families, setting clan against clan.
Day 5
Travel south via Loch Ness, including a visit to Urquhart Castle and see the Five Sisters of Kintail and the iconic Eilean Donan Castle. Situated on an island at the point where three great sea lochs meet, and surrounded by majestic scenery, it is little wonder that this castle is now one of the most visited attractions in the Scottish highlands. Enjoy a 2-night stay at the Duisdale House Hotel.
Day 6
Explore the legendary Isle of Skye, recently voted '4th best island in the world' by National Geographic magazine. Skye is famous for its rugged Cuillins and Quiraing Mountains. Visit the Talisker Whisky Distillery and Dunvegan Castle, and perhaps take a boat trip to explore the abundance of local wildlife; including seals, sea birds, dolphins, whales and more.
Day 7
After a delicious Scottish breakfast, drive south via the Mallaig car ferry and the Glenfinnan Memorial to Bonnie Prince Charlie, to Fort William, dominated by Britain's highest mountain, Ben Nevis. Fort William is the largest town in the highlands of Scotland and a major tourist center with Glen Coe just to the south, and Glenfinnan to the west, on the Road to the Isles. Stay 2-nights at Culcreuch Castle.
Day 8
Explore the beautiful Trossachs National Park with over 720 sq miles of National Park to explore and activities such as horse-riding, walking, wildlife watching, cycling, and more. Take a ride on the Lake Steamer, walk part of the West Highland way skirting the loch, and continue on to Stirling and visit the Castle. With splendor, color and glorious craftsmanship, enter the world of Scotland's Renaissance Kings & Queens.
Day 9
Drive to Edinburgh Airport, return your rental car and prepare for your return flight home to the United States.

To customize this itinerary, talk to one of our destination experts on 800.832.1848 or 212.757.5797.
---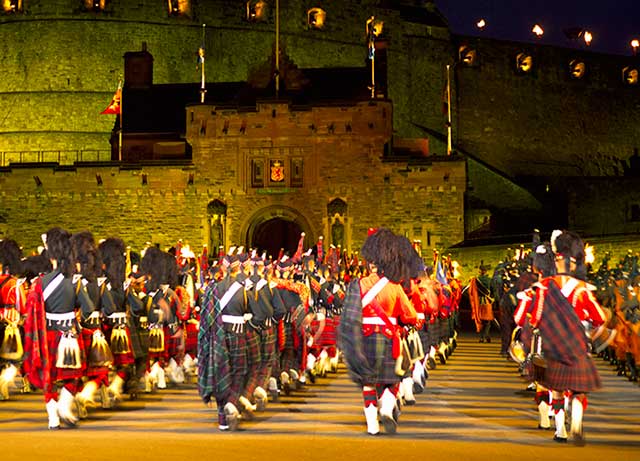 ---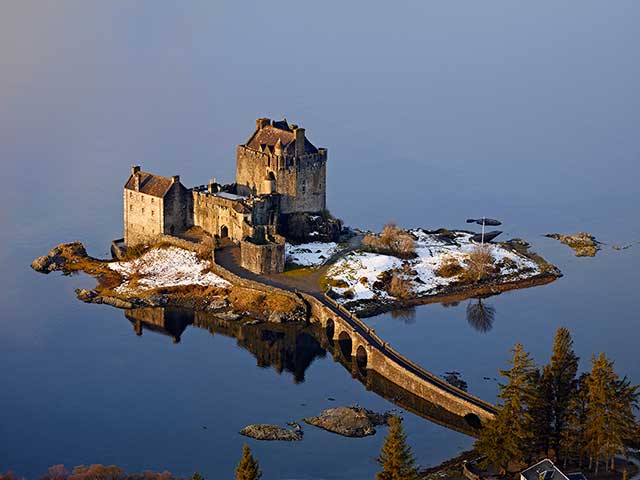 ---
---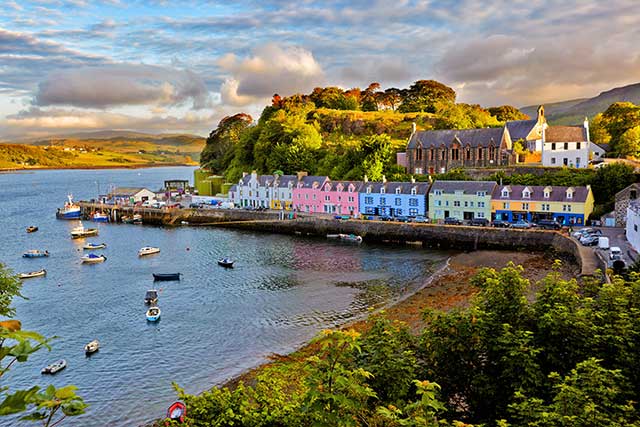 Hotels
Culcreuch Castle Hotel, Stirlingshire
Culcreuch Castle is one of Scotland's oldest hotels with the main hotel building dating from the 14th century. Located near Stirling in Central Scotland, Culcreuch Castle Hotel has been the ancestral seat of the Scottish Clan Galbraith for over 700 years. Set in the beautiful countryside of picturesque Scotland within reach of many tourist attractions, Culcreuch Castle Hotel is also accessible for top-quality shopping in nearby Stirling, or the major Scottish Cities of Glasgow and Edinburgh. All the hotels common areas are decorated in period style and furnished with antiques, giving the aura and grace of a bygone age of Scotland past. Log fires create warmth and intimacy and the candlelit evening meals in the paneled hotel Dining Room make for most romantic occasions, well complemented by freshly prepared local produce and a carefully selected wine cellar.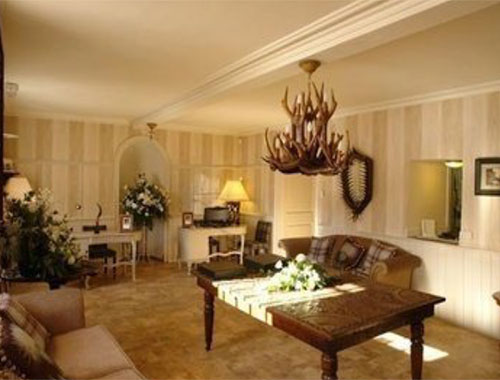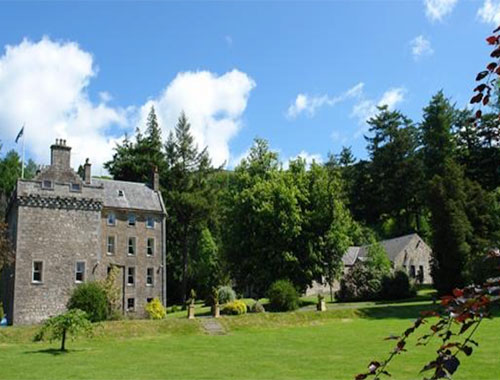 ---
Duisdale House Hotel, Isle of Skye
Escape to the beautiful Isle of Skye and enjoy an indulgent luxury hotel break in the Highlands of Scotland at Duisdale House Hotel.  Perfectly situated in the area known as Sleat on the southernmost tip of Skye, this Hebridean hotel, built in 1865 as a Hunting Lodge, has been completely transformed into a privately owned chic boutique retreat in recent years, and the award winning restaurant and exclusive daily sailing trips on board our luxury yacht (from April to September) add a whole new dimension to a short break on the Isle of Skye.  This hotel has just scooped the awards for 'Island Romantic Hotel of the Year' along with 'Island Style Hotel of the Year' 2014 from the Scottish Hotel Awards.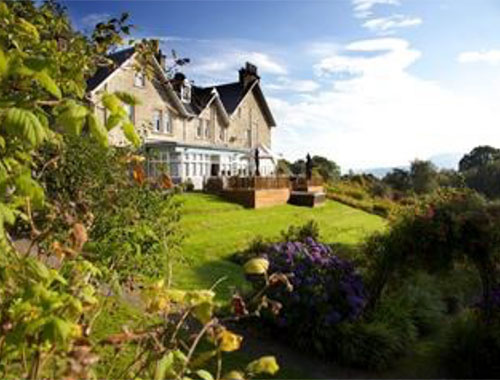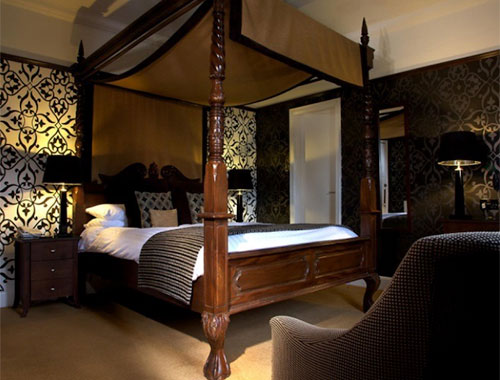 ---
The Balmoral Hotel
Edinburgh is the jewel in Scotland's crown and at its heart lies The Balmoral hotel. Located at 1 Princes Street with views of Edinburgh Castle, the Scott Monument and Arthur's Seat, the skirl of the bagpipes is always within earshot. This hotel merges contemporary styling with elegant tradition, like the colors of a fine tartan weave. It's a place where you can enjoy Michelin-starred dining at our 'Number One' restaurant and discover over 400 whiskies in our Scotch bar. The hotel's kilted doormen will guide you across the threshold of the finest 5-star hotel in Edinburgh. Their Concierge will guide you towards Edinburgh's modern boutiques and bars, theatres and museums.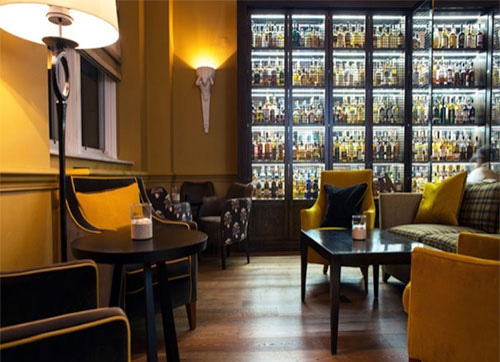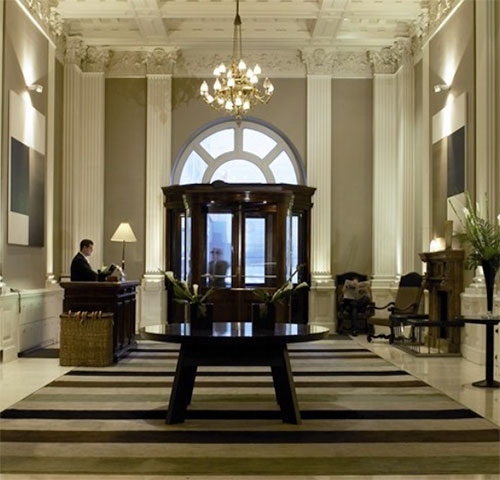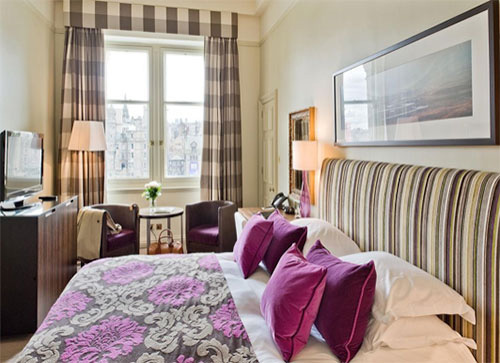 ---
The Kingsmills Hotel, Inverness
The Kingsmills Hotel is a luxury 4-star resort with Spa and Leisure Facilities, located 15 minutes from Inverness Airport.  Set within 4 acres of manicured grounds and only 1 mile from the center of Inverness, it is perfect for both leisure hotel breaks and for business travel. Between the historic mansion house, the luxurious Kingsclub and Spa and our newest addition of Luxury Rooms, the privately owned hotel has 134 relaxing bedrooms, many with private balconies and patios or views over the neighboring golf course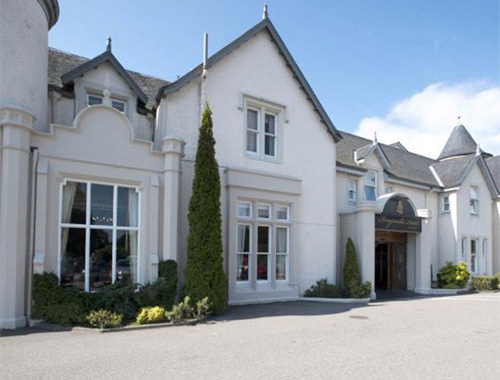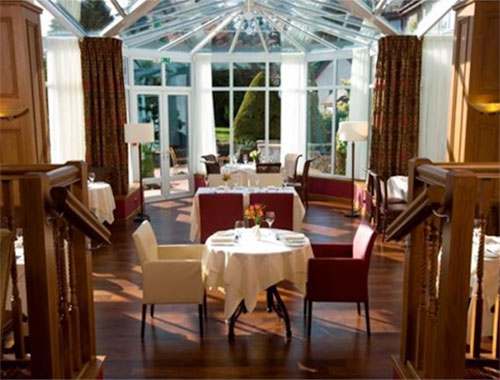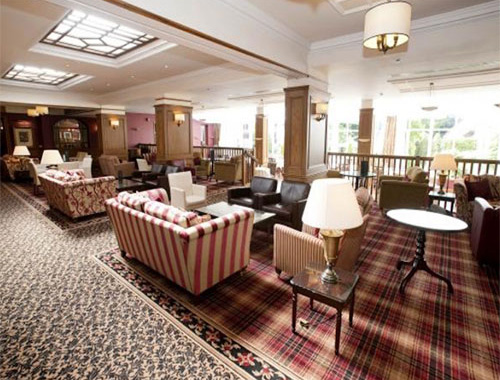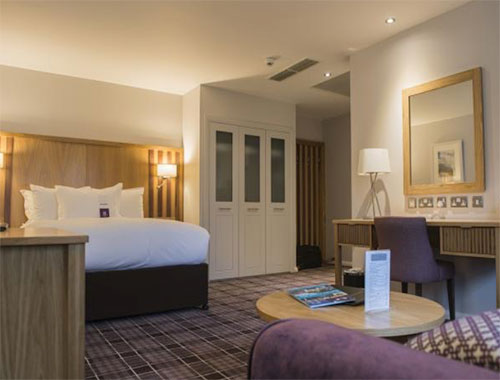 ---
Travel Tips & FAQs
Scotland
Passports & Visas
To enter Scotland (Great Britain), you need a valid passport. Citizens of the EEA member states (the 27 countries of the European Union EU, together with Iceland, Norway and Liechtenstein) and many other countries including USA, Australia, Canada and New Zealand do not require visas to gain entry to Scotland.
If only one parent is traveling with a child under 17 year of age and that child's last name differs from the parent, a signed notarised letter from the parent with the same last name as the child's authorizing permission to allow that child to travel.
For more passport information contact the U.S. Department of State (877/487–2778).
What to Pack
Bring a sweater, even in summer; waterproofs to accompany all outdoor activities; sunglasses; comfortable walking shoes and an umbrella. The weather is changeable so go for layers that you can put on or take off as the temperature changes. And if you are planing to do a lot of walking, comfortable walking shoes. Travel light and save yourself the burden of handling large and heavy luggage. In Scotland wearing casual clothes is acceptable with less emphasis on formal dress codes.
Weather
The climate in Scotland is moderate with rarely extremes in temperature.
January and February are the coldest months with an average temperature of 42.8°F.
July and August are the warmest months with an average temperature of 66.2°F.
There are variations from region to region. for example the Western Highlands experience some of the wettest weather in Europe due to the prevailing wind coming in from the Atlantic. In contrast, the Eastern part of Scotland has far less rainfall.
Currency
In Scotland the official currency is the pound sterling(£). One pound sterling consists of 100 pence.
Gratuities
Gratuities and tips are lower in Scotland than in the United States and some restaurants include these as a service charge on the bill. When tipping in restaurants you should pay 10 to 15 % and similarly with taxis, hairdressers and barbers.
Emergency Services
Police, Fire, Ambulance: Telephone: 999
24 hour medical treatment is available in UK hospitals under the National Health service and you should expect to be billed but it is nowhere as expensive as it is in the United States.
Gadgets
The electrical current in Great Britain is 220–240 volts and the plugs are three-pronged. Adapters are widely available and it is a good idea to bring a couple for your various gadgets.
Public Transportation
Traveline provides information on all public transportation in Scotland including timetables.
Most stations and bus terminals in Scotland will accept credit and debit cards for payment of tickets and other services.
Buses
Railways
The train service in Scotland is efficient, clean and comfortable with long distance journeys including buffet and refreshment cars. First Class, as well as standard class coaches are available on most scheduled services, with wider seats. Fares are much higher in First Class but on weekends you can upgrade for as little as £10 in some cases. Reserving tickets in advance is recommended.
Save online with The Trainline.
Travelling by Taxi
You can hail the typical black hackney taxis, like those in London on the street or book by phone with an additional 80p charge. Private taxi hire is with regular cars but all taxis must display the taxi license and a driver ID and are metered. Metering starts at £2 with increased intervals charged at 25p.
Time Zone
Scotland functions on Greenwich Mean Time (GMT). During the summer it becomes GMT+1. For example, New York is Greenwich Mean Time -5 hours & Los Angeles is Greenwich Mean Time -8 hours.
Language
English is commonly used throughout Scotland but in parts of the Outer Hebrides and Scottish Highlands Scots Gaelic may be spoken. Expect to see signposting in both English and Gaelic.
Driving
You will need either a full valid national driving license or an international driving permit (IDP). You can acquire an IDP from the American Automobile Association or from Automobile Association or Royal Automobile Club in the UK. IDPs are only valid with your regular driver's licence. They are not mandatory but having one can prevent issues when dealing with local authorities.
Cars in Scotland drive on the left-hand side of the road and both driver and passengers are required to wear seat belts at all times by law. Signposts will be presented with place names in English and Scots Gaelic.
You will pay a lot more for gasoline (petrol) in the UK, about £4 per gallon. The imperial gallon is 20% more in volume than the US Gallon and is dispensed at the pump by the litre (4.5 litres to the gallon).
Parking
On street parking is available in most urban areas in Scotland. It costs around £1 per hour where fees apply. Pay and display machines, which dispense tickets, are marked with a large P. Tickets should be placed on your dashboard for viewing by traffic wardens who inspect paid-for-parking zones regularly. Parking regulations are enforced with fines of £25 for cars parked illegally.
You will also find privately run parking lots.
Vaccinations
There are no vaccinations required to visit Scotland.
---
Testimonials
"Back from a great golf trip and thanks so much for your assistance. Hotels were outstanding and made for a wonderful relaxing trip."
– Tim Dudich
---
"I wanted to let you know that our trip was one for the ages. We had more fun than I could have imagined."
– Herb Bennett
---
"To say our group had an awesome time on our trip would be the understatement of the century."
– John C. Granzow, CIMA
---
"I will have no hesitation in recommending your company for future use! I felt as if you and your company gave us top notch customer service and never batted an eye for what may have been odd questions – that type of service is hard to find. You really gave us personal service!"
– Leslie Wajda
---
"Trip was great – accommodations excellent."
– Kathleen McCormack-Batterson
---
"This note is to praise Destinations Ireland and our driver, James Finn, who truly made our trip a pleasure!"
– Donna Long
---
"The trip was really great.  You did a fabulous job of picking the properties. Scotland is beautiful! It was a great trip. You scored again! Can't wait for our next adventure."
– Libby McGriff
---
"I wanted to let you know that the accommodations were fabulous throughout our trip. We were completely blown away, what a magnificent find. The house is simply breathtaking. A word on the drivers. I could not have asked for more accommodating or entertaining gentleman to escort us around. They were full of information, great stories, and advice. Really, really just wonderful guys all around."
– Susanne McNeill
---
"A masterful job in creating and arranging such a phenomenal trip…"
– P.J. Fitzgerald
---
"We had a "dream trip" and you/your organization were a large part it making it all happen. Everything went smoothly and was more than we ever imagined! We are already talking about a return trip in a few years! Have to save our money. 🙂 Thanks again for all you did for us."
– Nancy Capocy
---
"I cannot express how much I appreciate you making all the arrangements with such short notice & I just wanted to say Thank you again for all your help."
– Susan Sanford
---
"All I do is talk about the wonderful trip, sites and your company and how we couldn't have been happier with all the arrangements and people who set this wonderful trip up. Again thank you!!!"
– Janet Jenrick
---
"We had a wonderful time in Ireland and I appreciate all the reservations you made and the guidance your gave us."
– Monica Kobasic
---
"I wanted to thank you for arranging a great trip to Scotland. The Channings, Culloden House, and Roxburghe House were fantastic…the best of accommodations, food, and customer service"
– Trina Girimont
---
"I wanted to thank you and Destinations Ireland and Beyond. We had an amazing experience. We loved all the hotels that you set us up with. Thank you for being so insightful, quickly giving us a speed course of Ireland and helping us decide where to go and what to see. I would highly recommend Destinations Ireland and Beyond as the best travel agency!"
– Donna and Ira Spector
---
"A lot of beautiful memories. THANK YOU for all of your planning and attention to detail,"
– Kathy Ross
---
"I just wanted to send you a thank you for all you did to make our trip the best! It was beyond our expectations! We loved all of our accommodations. I can't say that I have a favorite because it all was perfect. We were not ready to come home and all look forward to visiting Ireland again."
– Peg Cozzolino
---
"I want to THANK ALL OF YOU FOR A WONDERFUL TRIP. Ronelle and I had a marvelous time."
– P.J. "Paul" Nicholson
---
"Thank You! for all your help arranging a wonderful visit to Ireland."
– Ron & Jennifer Spielman
---
"Tim and I had a wonderful trip to Ireland thanks to your wonderful suggestions and arrangements. Everything was just perfect. We truly had a wonderful trip and are grateful for your services."
– Jenny Popp
---
"Thank you for the great job you did arranging our trip to Ireland. Everything went wonderfully and the accommodations were the best."
– Elizabeth Zechman
---
Booking Enquiry for Royal Scotland
You can use this form to contact us with your preferred date of travel, the number of people in your party and your requirements and we will get back to you with a quote.