Ireland
| Kinnitty Castle, Leap Castle, Charleville Forest Castle, Killua Castle, Castle Leslie, The Giant's Causeway |
7 Days & 6 Nights
Haunted Ireland Adventure

Self Drive Tour or Luxury Chauffeured Tour
Let the haunted castles of Ireland bewitch you!

Uncover the dark secrets, mysteries and ghostly tales of Ireland's past, as we take you on an unforgettable tour of Ireland's haunted castles.
"I cannot express how much I appreciate you making all the arrangements with such short notice & I just wanted to say Thank you again for all your help."

– Susan Sanford
---
Highlights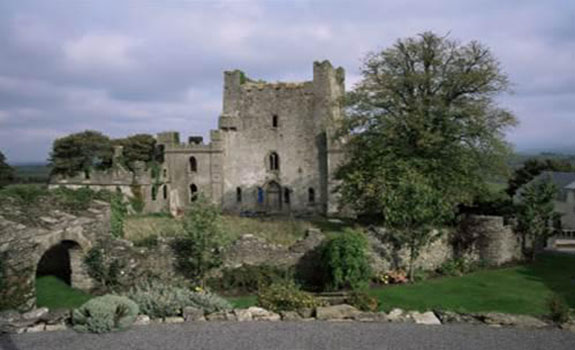 Immerse yourself in the myths, magic and haunted history of Ireland's past. Always the realm of mysteries and legends since Celtic times, Ireland is where the pooka, the banshee, and other fairy folk are still very much present in rural life. Investigate the dark histories of Ireland's castles, and encounter a ghost or two while immersing yourself in Ireland's rich heritage and stunning scenery. On this fascinating adventure tour, you will stay in two of Ireland's most esteemed and luxurious properties, Kinnitty Castle and Castle Leslie.

To customize this itinerary, talk to one of our destination experts on 800.832.1848 or 212.757.5797.
Arrive in Dublin and drive to County Offaly
Stay in the haunted Kinnitty Castle
Learn the ghostly tales of Leap Castle
Explore the eerie Charleville Forest Castle
Visit the romantic ruins of Killua Castle
Tour the world heritage site of pre-historic Newgrange
See the ghost of Clonony Castle
Stay in haunted Castle Leslie in County Monaghan
Tour the Glens of Antrim & visit The Giant's Causeway.
Depart from Dublin
Included in This Tour
Private Car transfer to your hotel on arrival.
6 nights deluxe hotel accommodations with full breakfast daily.
Self-Drive rental vehicle with unlimited mileage and CDW Insurance. OR upgrade to the services of a Professional Driver Guide.
Touring Map of Ireland & List of recommended pubs, restaurants and places of interest.
An exclusive & extensive list of all the best craft trails and activities in Ireland.
Deluxe portfolio of travel Documents & Personalized Itinerary.
24/7 Concierge service in Ireland while travelling.
Discount admissions booklet for area attractions.
Not Included: Airfare, tips, travel insurance, and items of a personal nature.
Flight Information
Arrive: Dublin (DUB)
Depart: Dublin (DUB)
Airfare is Additional
Take the hassle out of booking flights. Ask about our best available Economy Fares as well as our Preferred Business and First Class Offers. Our air department experts can help with competitive rates. Just let us know your preferred dates and U.S. Departure City. We will do the rest.
Meals
---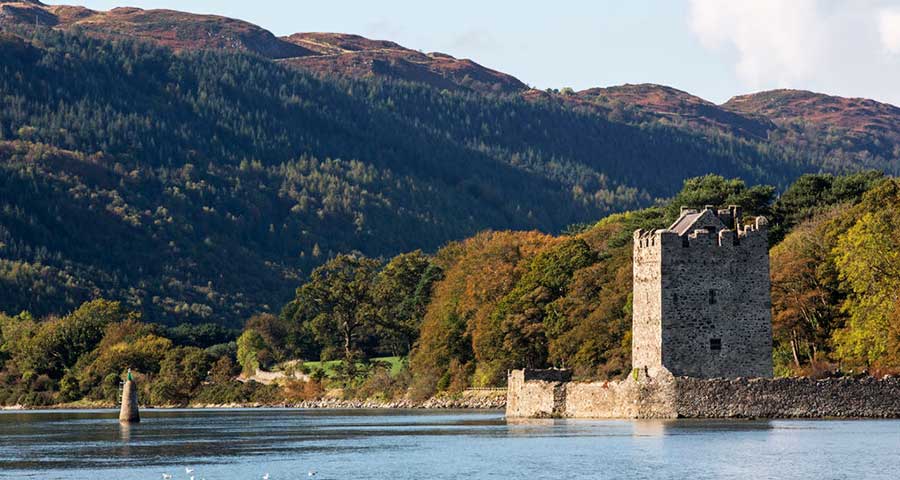 Day 1: Birr, Co. Offaly
Arriving in Dublin Airport, pick up your rental car. Drive to Offaly for your 4-night stay at Kinnitty Castle. On the way make a stop at Kilkea Castle, built in 1180 and the oldest inhabited castle in Ireland. Local folklore maintains that the castle is haunted by the ghost of Earl "the Wizard" Gerald, and the presence of "evil" is symbolized in the famous Evil Eye Stone located there.
Onwards to Kinnitty Castle, famous for its long and turbulent history. The castle was destroyed in 1209 and was later rebuilt by the Normans in 1213. It is said to be haunted by the 11th Earl of Kildare. Horse – riding and shooting are specialities at Kinnitty Castle. Stay for 4 nights.
Day 2: Leap Castle
If you dare, you can visit the most haunted castle in Ireland – Leap Castle. Leap Castle is home to many dark secrets. Over 400 years ago, rivalries between brothers turned to murder, when one brother killed his priest brother during high mass in what is now known as the 'Bloody Chapel'. The hidden ubliet (dungeon) located off the bloody chapel is another reminder of Leap Castle's dark past. Those imprisoned in this small room suffered unimaginable pain and misery until their death. Around c.1900 workmen who were hired to clean out the ubliet discovered human skeletons piled on top of each other. Because of its extremely bloody history Leap Castle has always had a reputation for being haunted, so strong was this that local people avoided it at night. Completely gutted by fire during the Irish Civil War in 1922, Leap Castle was boarded up and its gates were locked. Locals described seeing the windows at the top of the castle "light up for a few seconds as if many candles were brought into the room" late at night. The castle laid in ruin for years, until it was bought and renovated in 1974.
Day 3: Charleville Forest Castle & Killua Castle
Today, visit Charleville Forest Castle, with its Druid's Initiation Circle as well as its eerie catacombs and a tower that the late Charles Bury, First Earl of Charleville, still walks. Many orbs "ghostly balls of light" have been spotted throughout the castle to remind us all that we are not alone!
Drive north to Westmeath to visit Killua Castle, one of the most romantic ruins in the country. Built in 1780 and later converted to the Gothic style, it was once owned by the ancestors of Lawrence of Arabia, who visited it himself. The house was long ago abandoned but when it was still in use, visitors often complained of things that went bump in the night. A white phantom was said to circle the ruins, and a hideous, evil-eyed figure was often sighted within the walls. This spectral vision is said to be the ghost of an 18th century land steward called Jacky Dalton. A small, cunning man with a "weasel eye" and a strange yellow wig, he cheated his master out of a lot of money, then drank it all and committed suicide by throwing himself in the lake. A recipe for an unquiet spirit…
Take a detour into Meath, to visit the UNESCO World Heritage site of Newgrange. This prehistoric monument, built in 3200BC, is older than both the Egyptian Pyramids and Stonehenge, and is a place of astrological, spiritual, and ceremonial importance. A visit to Newgrange is an unforgettable experience.
Day 4: Clonony Castle
Visit Clonony Castle. This great, square ruin of a tower in the middle of Offaly looks creepy enough. It dates back to the 16th century, and has a historic connection with Anne Boleyn, whose cousins are buried in a cave beneath the castle. The castle's reputed ghost is that of a man, seen standing on top of the tower in old-fashioned dress. His identity remains a mystery, but he is still seen regularly by passing motorists at night, who have described a tall, thin, almost skeletal figure, surrounded by a hazy, luminous light. Most unsettling…
Day 5: Castle Leslie, Glasson, Co Monaghan
Castle Leslie is set amid 1,000 acres of breath-taking scenery. For over 300 years, it has been the family home of the eccentric Leslie family and has over successive generations been host to many celebrities such as Sir John Betjeman, W.B. Yeats, Mick Jagger, and Paul McCartney. Situated on the site of an earlier castle, it was designed in the Scottish Baronial style by Charles Lanyon and W.H. Lynn in 1870 AD for Sir John Leslie, 1st Baronet MP.
The Red Room in this beautiful castle is said to be haunted by Norman Leslie, who was killed during the First World War. Apparently his mother Lady Marjorie was sleeping in this room one night and awoke to see his ghost standing near the foot of her bed, apparently looking through some letters. After a while this apparition of her dead son turned to her, smiled, and then faded away. There have been many other strange happenings reported in this fascinating castle, such as bells ringing of their own accord and strange figures wandering down corridors. Stay in Castle Leslie for 2 nights.
Day 6: Glens of Antrim and The Giant's Causeway
An hour drive north-east of Castle Leslie you reach the provincial capital of Ulster, Belfast. Head for Carrickfergus, and then on to Larne where you leave the beaten track to follow the spectacular, and remote coastal route through villages where time has stood still. Enjoy the breath-taking Nine Glens of Antrim, cross the Carrick-a-Rede Rope Bridge and marvel at Dunluce Castle, perched dramatically on towering cliffs high above the North Channel. Visit the oldest distillery in the world at Bushmills and end the day at the amazing Giant's Causeway.
Day 7: Depart Dublin Airport
Drive to Dublin Airport, return your rental car and prepare for your return flight home.

To customize this itinerary, talk to one of our destination experts on 800.832.1848 or 212.757.5797.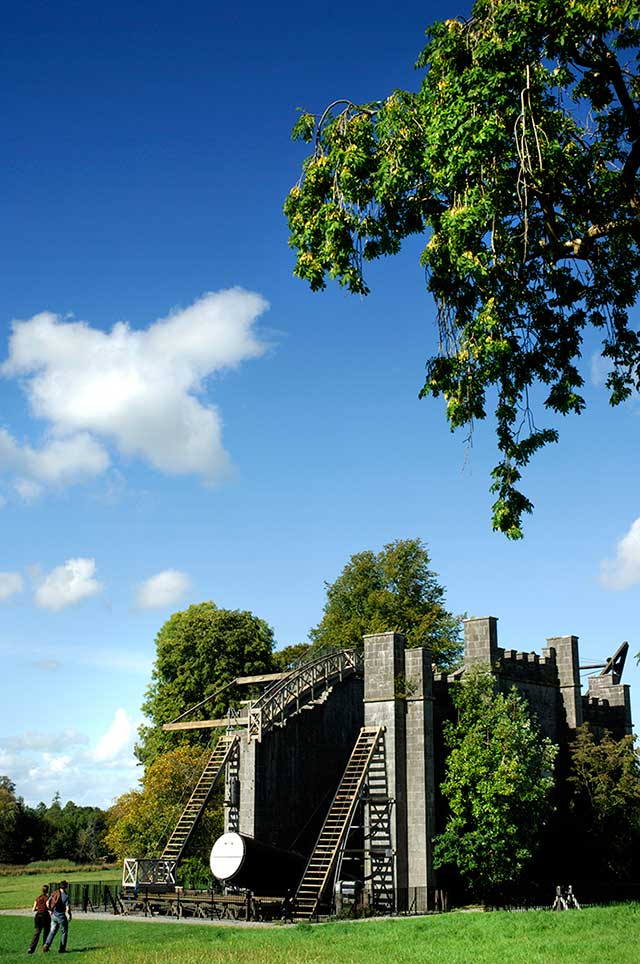 ---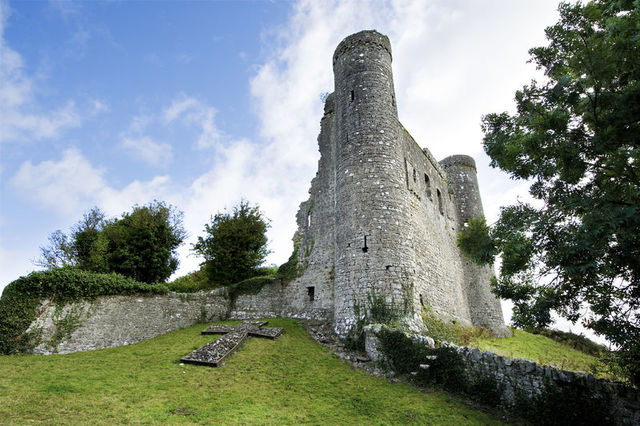 ---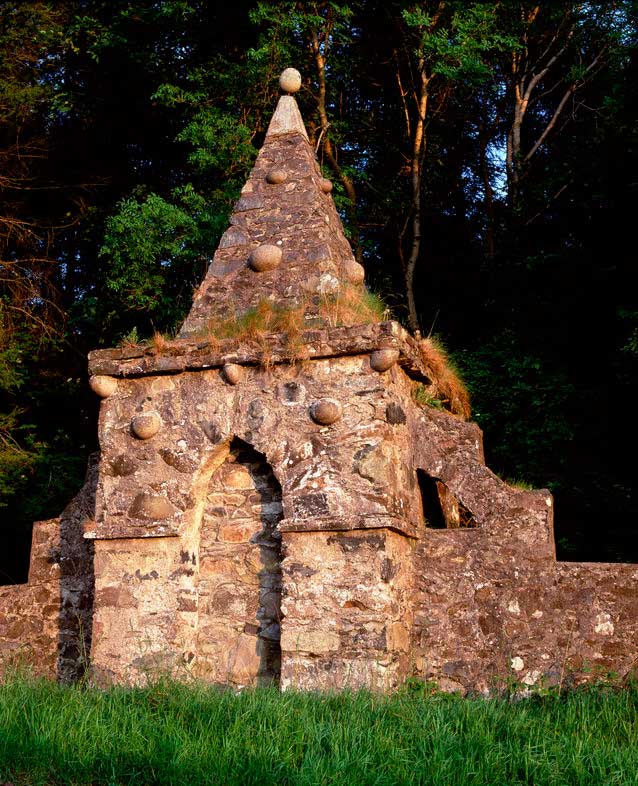 ---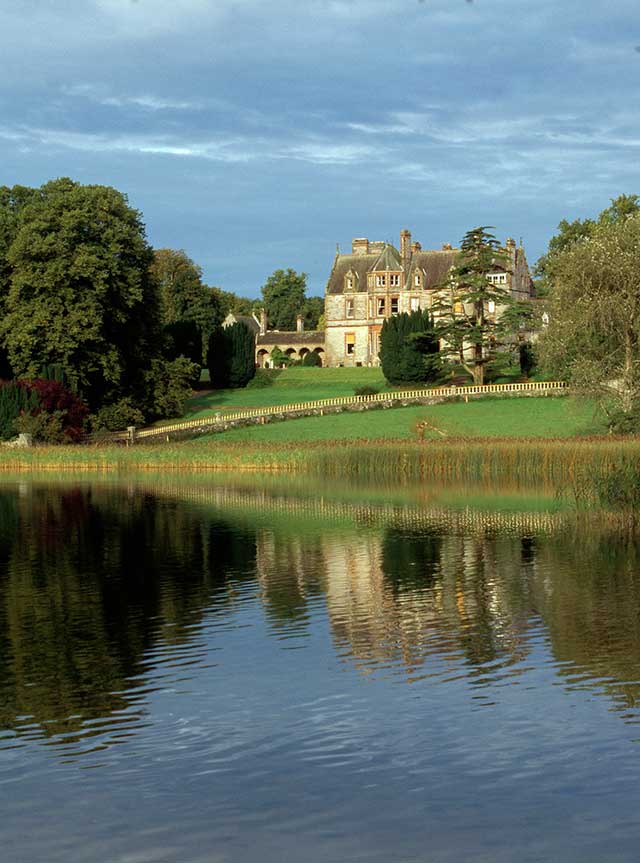 Hotels
Castle Leslie Estate, County Monaghan
Castle Leslie Estate in County Monaghan is nestled on 1,000 acres of undulating Irish countryside, dotted with ancient woodland and glittering lakes. Castle Leslie Estate, Monaghan is one of the last great Irish Castle estates still in the hands of its founding family. Since the 1660s, the distinguished and somewhat individual Leslie family have lived on the Castle Estate, welcoming everyone from politicians to poets, ambassadors to ufologists; all the time making their home into one of the finest luxury castle hotels Ireland has to offer.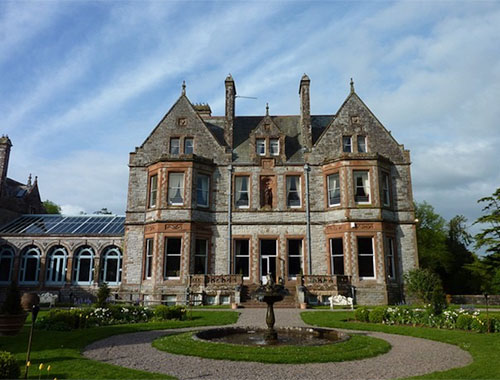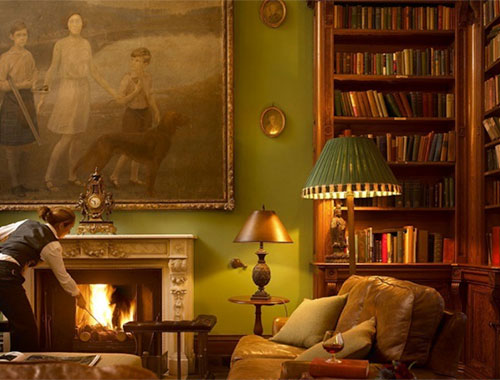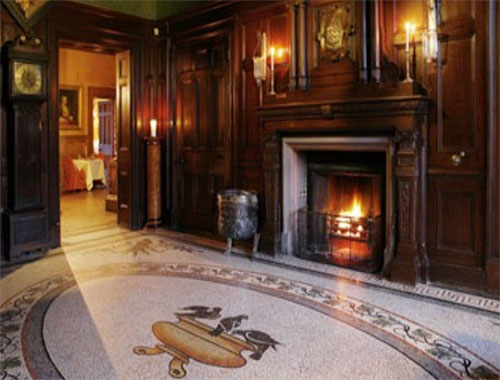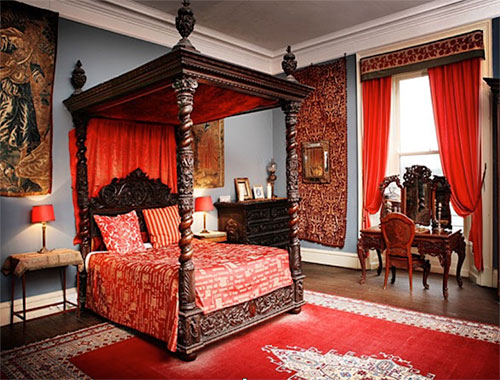 ---
Kinnitty Castle, Co. Offaly
Kinnitty Castle Hotel, located in the picturesque village of Kinnitty Co. Offaly, nestled in the foothills of the Slieve Bloom Mountains, offers the perfect setting for a romantic castle break in Ireland. Arrive up the winding avenue, opening into breathtaking views of the 13th century castle seated on 650 acres of parkland, inclusive of 60 acres of rolling lawns. Enter the lavish medieval revival castle, drenched in original features, heritage colors and regal atmospheres dating back to 1209. Wander through the fine settings of the Library Bar, The Sli Dala Restaurant and the Drawing Room all with magnificent character. Relax beside our unique open fires, enjoy the best of local cuisine prepared by our Executive Chef, Anthony Holland.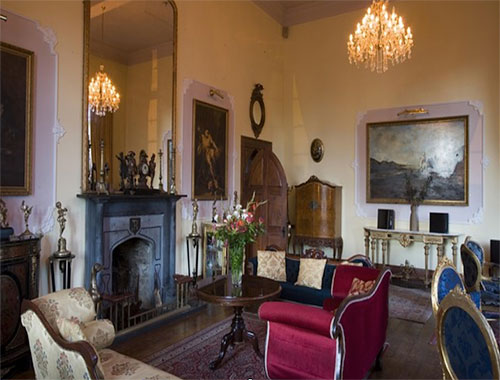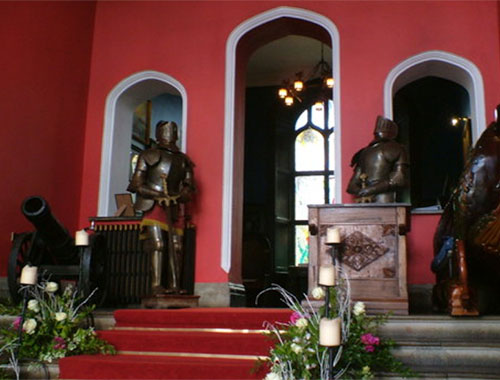 ---
Travel Tips & FAQs
Ireland
Passports & Visas
To enter the Republic or Northern Ireland, you need a valid passport. While e-passports are commonly used now, they are not a necessity to enter Ireland. UK citizens do not require a passport to enter Ireland, but carriers by air or sea require some form of identification with a photograph (usually either a passport or driving license with photo).
Citizens of the EEA member states (the 27 countries of the European Union EU, together with Iceland, Norway and Liechtenstein) and many other countries including USA, Australia, Canada and New Zealand do not require visas to gain entry to Republic or Northern Ireland.
What to Pack
Bring a sweater, even in summer; waterproofs to accompany all outdoor activities; sunglasses; comfortable walking shoes and an umbrella. The weather is changeable so go for layers that you can put on or take off as the temperature changes.
Weather
February to April: Highest temperatures range from 46 to 54°F
May to July: Highest temperatures are between 64 and 68°F
August to October: Highest temperatures hit between 64 and 57°F.
Winter air temperatures inland normally reach 46°F, while the coldest months are January and February.
April & September are considered the most pleasant and temperate months.
Currency
In the Republic of Ireland, the official currency is the euro (€). One euro consists of 100 cent. In Northern Ireland, pound sterling is the local currency (£). One pound sterling consists of 100 pence.
Gratuities
Gratuities and tips are discretionary and are not usually included in a bill. The general custom is to give 10% to serving staff in restaurants. Cafes might have a collection box at the till and bar staff are not tipped but you are free to offer "have one for yourself".
Emergency Services
Police, Fire, Ambulance:
Republic of Ireland, Telephone: 112 or 999
Northern Ireland, Telephone: 999
Gadgets
Plugs in Ireland are three-pronged, the same as in the UK and the electricity supply is also 230v. Adapters are widely available, and it's a good idea to bring a couple for your various gadgets.
Public Transportation
National Coaches
Republic of Ireland: Bus Eireann
Northern Ireland: Translink
Dublin Buses
Leap Visitor Card is a prepaid pass that allows you to travel on all Dublin Bus, Airlink 747 buses as well as the Luas Light Railway Tram and DART (Dublin Area Rapid Transit) for up to 3 days.
Railways
Republic of Ireland: Irish Rail
Northern Ireland: Northern Ireland Railways
The Dart (Dublin Area Rapid Transit) covers Dublin's coast and city area from Howth and Malahide in north County Dublin via Dun Laoghaire in south County Dublin to Greystones in County Wicklow.
Luas light rail/tram service travels across the south and west of Dublin city including the city center areas.
Time Zone
Ireland functions on Greenwich Mean Time (GMT). During the summer it becomes GMT+1, that's Irish Standard Time (IST) in the Republic and British Summer Time (BST) in Northern Ireland.
For example, New York is Irish Time -5 hours & Los Angeles is Irish Time -8 hours.
Language
English is commonly used throughout Ireland although Irish is the official language and there are Irish speaking areas called the Gaeltacht where it is the predominant language.
Driving
You will need either a full valid national driving license or an international driving permit. Cars in Ireland drive on the left-hand side of the road and both driver and passengers are required to wear seat belts at all times by law. Signposts in Gaeltacht (Irish speaking) areas are written in Irish (Gaelic) so familiarise yourself with both English and Irish spellings before you set off for those parts. Northern Ireland uses miles per hour, while the Republic of Ireland uses kilometers for signage and speed limits.
Vaccinations
There are no vaccinations required to visit Ireland.
---
Testimonials
"Back from a great golf trip and thanks so much for your assistance. Hotels were outstanding and made for a wonderful relaxing trip."
– Tim Dudich
---
"I wanted to let you know that our trip was one for the ages. We had more fun than I could have imagined."
– Herb Bennett
---
"To say our group had an awesome time on our trip would be the understatement of the century."
– John C. Granzow, CIMA
---
"I will have no hesitation in recommending your company for future use! I felt as if you and your company gave us top notch customer service and never batted an eye for what may have been odd questions – that type of service is hard to find. You really gave us personal service!"
– Leslie Wajda
---
"Trip was great – accommodations excellent."
– Kathleen McCormack-Batterson
---
"This note is to praise Destinations Ireland and our driver, James Finn, who truly made our trip a pleasure!"
– Donna Long
---
"The trip was really great.  You did a fabulous job of picking the properties. Scotland is beautiful! It was a great trip. You scored again! Can't wait for our next adventure."
– Libby McGriff
---
"I wanted to let you know that the accommodations were fabulous throughout our trip. We were completely blown away, what a magnificent find. The house is simply breathtaking. A word on the drivers. I could not have asked for more accommodating or entertaining gentleman to escort us around. They were full of information, great stories, and advice. Really, really just wonderful guys all around."
– Susanne McNeill
---
"A masterful job in creating and arranging such a phenomenal trip…"
– P.J. Fitzgerald
---
"We had a "dream trip" and you/your organization were a large part it making it all happen. Everything went smoothly and was more than we ever imagined! We are already talking about a return trip in a few years! Have to save our money. 🙂 Thanks again for all you did for us."
– Nancy Capocy
---
"I cannot express how much I appreciate you making all the arrangements with such short notice & I just wanted to say Thank you again for all your help."
– Susan Sanford
---
"All I do is talk about the wonderful trip, sites and your company and how we couldn't have been happier with all the arrangements and people who set this wonderful trip up. Again thank you!!!"
– Janet Jenrick
---
"We had a wonderful time in Ireland and I appreciate all the reservations you made and the guidance your gave us."
– Monica Kobasic
---
"I wanted to thank you for arranging a great trip to Scotland. The Channings, Culloden House, and Roxburghe House were fantastic…the best of accommodations, food, and customer service"
– Trina Girimont
---
"I wanted to thank you and Destinations Ireland and Beyond. We had an amazing experience. We loved all the hotels that you set us up with. Thank you for being so insightful, quickly giving us a speed course of Ireland and helping us decide where to go and what to see. I would highly recommend Destinations Ireland and Beyond as the best travel agency!"
– Donna and Ira Spector
---
"A lot of beautiful memories. THANK YOU for all of your planning and attention to detail,"
– Kathy Ross
---
"I just wanted to send you a thank you for all you did to make our trip the best! It was beyond our expectations! We loved all of our accommodations. I can't say that I have a favorite because it all was perfect. We were not ready to come home and all look forward to visiting Ireland again."
– Peg Cozzolino
---
"I want to THANK ALL OF YOU FOR A WONDERFUL TRIP. Ronelle and I had a marvelous time."
– P.J. "Paul" Nicholson
---
"Thank You! for all your help arranging a wonderful visit to Ireland."
– Ron & Jennifer Spielman
---
"Tim and I had a wonderful trip to Ireland thanks to your wonderful suggestions and arrangements. Everything was just perfect. We truly had a wonderful trip and are grateful for your services."
– Jenny Popp
---
"Thank you for the great job you did arranging our trip to Ireland. Everything went wonderfully and the accommodations were the best."
– Elizabeth Zechman
---
Booking Enquiry for Haunted Ireland Adventure
You can use this form to contact us with your preferred date of travel, the number of people in your party and your requirements and we will get back to you with a quote.